Former President Donald Trump on Thursday became the first former U.S. president in history to be indicted.
Trump's attorney, Joseph Tacopina, confirmed the indictment by the office of Manhattan DA Alvin Bragg to The Epoch Times on March 30.
Bragg's office has been investigating Trump for his alleged involvement in a $130,000 payment to adult entertainment actress Stormy Daniels by Trump's then-lawyer Michael Cohen in the leadup to the 2016 presidential election. The payment allegedly was to stop Daniels from going public with an affair she claims to have had with Trump, who denies the claim.
The indictment came after weekslong proceedings where a grand jury heard testimony from former Trump associates, including Cohen and Cohen's former attorney Robert Costello.
While the indictment remains sealed, it is believed the case heavily relies on Cohen's testimony. Cohen pleaded guilty to violating federal campaign finance laws in 2018 by arranging payments to Daniels and another woman claiming to have had an affair with Trump. In his plea agreement, the attorney claimed to have done so at Trump's direction and that he was reimbursed by the Trump Organization through routine legal expenses, despite his earlier claims that he paid the money out of his own pocket.
Trump, a candidate in the 2024 presidential election, has denied any wrongdoing, claiming that he's a victim of extortion.
Legal Hurdles
Bragg's case against Trump, which some have said employs a "novel" legal argument, faces significant legal hurdles, according to some legal experts.
Alan Dershowitz, a legal scholar who taught at Harvard Law for fifty years, was highly skeptical of Bragg's bid to combine state and federal laws—the false records charge and the campaign finance laws, respectively.
"There's a federal campaign statute, and there's a state record statute, and the two have nothing to do with each other," Dershowitz told The Epoch Times on March 18. "But in order to turn the state statute into a felony, you have to borrow a federal statute, which seems to raise real, serious legal questions."
There's also the question of if the statute of limitation has run out on this case.
By Gary Bai
Read Full Article on TheEpochTimes.com
Statement by Gov Ron DeSantis on Extradition Request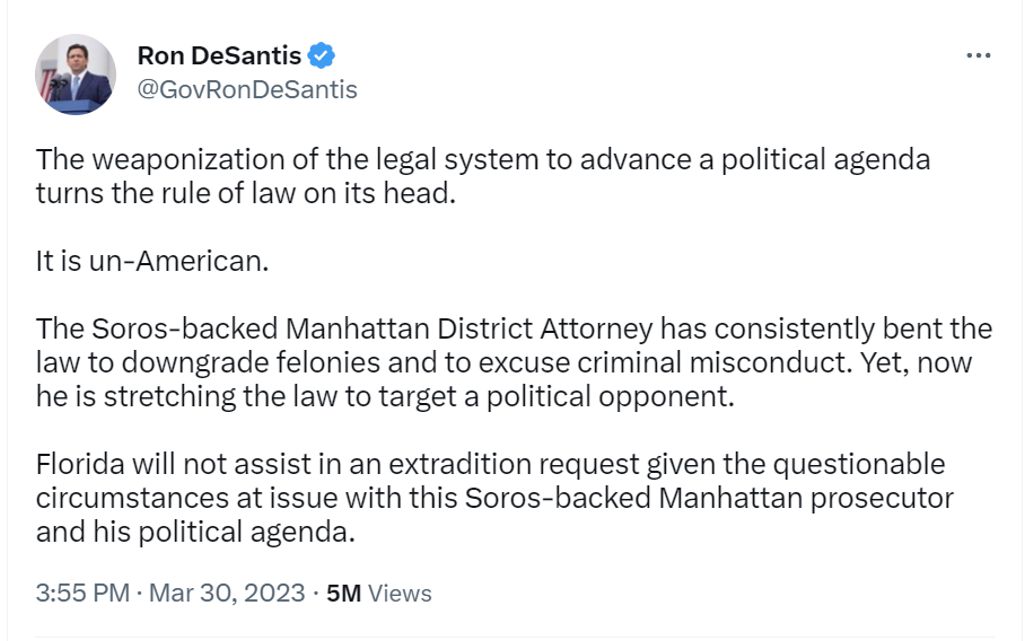 Donald Trump's Statement on Truth Social
These Thugs and Radical Left Monsters have just INDICATED the 45th President of the United States of America, and the leading Republican Candidate, by far, for the 2024 Nomination for President. THIS IS AN ATTACK ON OUR COUNTRY THE LIKES OF WHICH HAS NEVER BEEN SEEN BEFORE. IT IS LIKEWISE A CONTINUING ATTACK ON OUR ONCE FREE AND FAIR ELECTIONS. THE USA IS NOW A THIRD WORLD NATION, A NATION IN SERIOUS DECLINE. SO SAD!

Statement by Donald J. Trump, 45th President of the United States of America

"This is Political Persecution and Election Interference at the highest level in history. From the time I came down the golden escalator at Trump Tower, and even before I was sworn in as your President of the United States, the Radical Left Democrats – the enemy of the hard-working men and women of this Country – have been engaged in a Witch-Hunt to destroy the Make America Great Again movement. You remember it just like I do: Russia, Russia, Russia; the Mueller Hoax; Ukraine, Ukraine, Ukraine; Impeachment Hoax 1; Impeachment Hoax 2; the illegal and unconstitutional Mar-a-Lago raid; and now this.
"The Democrats have lied, cheated and stolen in their obsession with trying to 'Get Trump,' but now they've done the unthinkable – indicting a completely innocent person in an act of blatant Election Interference.
"Never before in our Nation's history has this been done. The Democrats have cheated countless times over the decades, including spying on my campaign, but weaponizing our justice system to punish a political opponent, who just so happens to be a President of the United States and by far the leading Republican candidate for President, has never happened before. Ever.
"Manhattan DA Alvin Bragg, who was hand-picked and funded by George Soros, is a disgrace. Rather than stopping the unprecedented crime wave taking over New York City, he's doing Joe Biden's dirty work, ignoring the murders and burglaries and assaults he should be focused on. This is how Bragg spends his time!
"I believe this Witch-Hunt will backfire massively on Joe Biden. The American people realize exactly what the Radical Left Democrats are doing here. Everyone can see it. So our Movement, and our Party – united and strong – will first defeat Alvin Bragg, and then we will defeat Joe Biden, and we are going to throw every last one of these Crooked Democrats out of office so we can MAKE AMERICA GREAT AGAIN!"