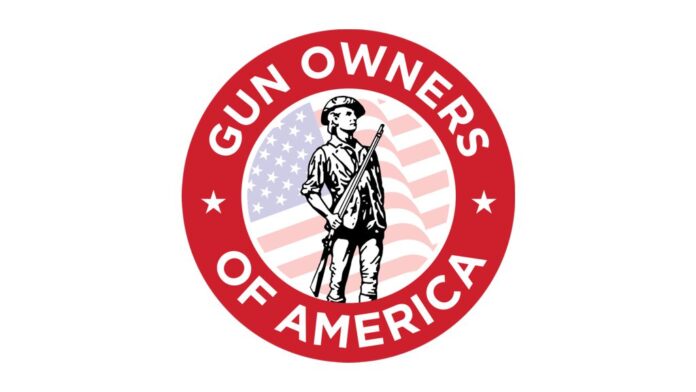 The Gun Owners of America Story
Gun Owners of America (GOA) is a non-profit lobbying organization formed in 1976 to preserve and defend the Second Amendment rights of gun owners. GOA sees firearms ownership as a freedom issue.
GOA was founded in 1976 by the late Sen. H.L. Bill Richardson. The GOA Board of Directors brings over 100 years of combined knowledge and experience on guns, legislation and politics. GOA's Board is not satisfied with the "status quo." Americans have lost some of our precious gun rights and we want them back! This is why GOA is considered the "no compromise" gun lobby.
From state legislatures and city councils to the United States Congress and the White House, GOA represents the views of gun owners whenever their rights are threatened.
8001 Forbes Place
Suite 202
Springfield, VA 22151
703-321-8585
Website: Gun Owners of America
GOA has never wavered from its mission to defend the Second Amendment.
Over the last 30 years, GOA has built a nationwide network of attorneys to help fight court battles in almost every state in the nation to protect gun owner rights. GOA staff and attorneys have also worked with members of Congress, state legislators and local citizens to protect gun ranges and local gun clubs from closure by overzealous government anti-gun bureaucrats.
As an example, GOA fought for and won, the right of gun owners to sue and recover damages from the federal Bureau of Alcohol, Tobacco and Firearms (BATF) for harassment and unlawful seizure of firearms.
FAQ
Does GOA have state chapters? GOA is active at the federal level and in all 50 states. Affiliated with GOA is Gun Owners of California, which operates exclusively in that state. GOA also has state spokespersons and directors across the country.
Is GOA aware of anti-gun bills introduced into Congress/state legislatures? Yes, GOA closely monitors Congress and state legislatures for pro- and anti-gun bills. However, there are literally THOUSANDS of gun bills being introduced every year across the country. It becomes necessary, therefore, for us to first see which bills are moving so that we can determine which ones need immediate attention. GOA will act on bills that are moving through the legislature. Otherwise, GOA would misappropriate its limited resources on bills that have little chance of passing anyway.
What is GOA doing to help those in anti-gun states (like New York, California, New Jersey etc.)? GOA (and its Foundation) are involved in many legal challenges in anti-gun states. For example, GOA was involved in the Wrenn case, which ultimately turned the District of Columbia into a "shall issue" locality for concealed carry. GOA is also challenging the licensing restrictions in New York City before the Supreme Court — a case that will have a dramatic effect upon gun control laws in other anti-gun jurisdictions. Additionally, GOA is pushing for federal reciprocity like HR 38 that would effectively nullify "may-issue" permits, allowing those in anti-gun states to carry in their home state and across the country.
How is GOA different from other gun organizations? Two words: no compromise! GOA firmly believes that gun control of all forms is ineffective and unconstitutional. For over forty years, GOA has brought this "no compromise" approach to Congress and state legislatures with success. To see GOA's accomplishments, click here.