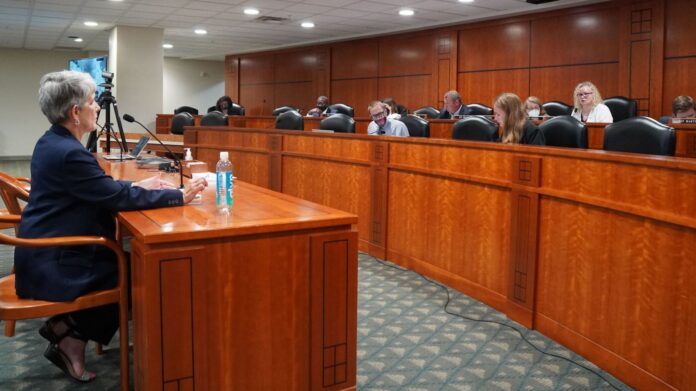 LANSING, Mich.—A public hearing on a proposed new law to ban employers from requiring workers to be vaccinated against the CCP (Chinese Communist Party) virus drew hundreds of people, many dressed in hospital scrubs, to the state capital on Thursday morning.
The overwhelmingly supportive crowd jammed into a hearing on the bill conducted by the House Committee on Workforce, Trades, and Talent, filling the spacious committee room and four overflow rooms to capacity.
The Informed Consent in the Workplace Act (pdf), offered by Rep. Sue Allor (R-Wolverine) and 16 other sponsors, prohibits employers from threatening, firing, discriminating, retaliating against, or refusing to hire workers that decline to receive vaccinations for the CCP virus, tetanus, diphtheria, and pertussis.
The proposed legislation would prohibit employers from forcing employees who have refused the vaccines to wear a mask as a consequence of their decision, and from being required to wear or display a mark that distinguishes the individual from vaccinated coworkers.
The bill also allows aggrieved employees to sue employers for injunctive relief and for triple any financial losses they incur, plus costs and attorney fees.
Committee Chairperson Beth Griffin (R-Mattawan) opened the hearing by stating, "Thousands of employees across the state are protesting employers forcing them to put something into their bodies that they don't want."
The bill imposes a strict regulation on Michigan businesses, a concept that Republicans have traditionally resisted. On the other hand, normally pro-regulation Democrats, such as committee minority co-chair Terry Sabo, are opposed to the bill, contending it will be an obstacle to putting the pandemic behind us and will hinder economic recovery.
"I'm disappointed to see my colleagues push a bill that is so clearly anti-business," said Sabo. "The business community has joined together and made their voices loud and clear in opposition to this legislation, and I stand with them."
Allor observed that Republicans generally believe that government is too intrusive in business, but said her bill takes the vaccine mandate issue beyond the rights of businesses to the "civil liberties and basic rights and freedoms of the people as individuals."
By Steven Kovac
Read Full Article on TheEpochTimes.com