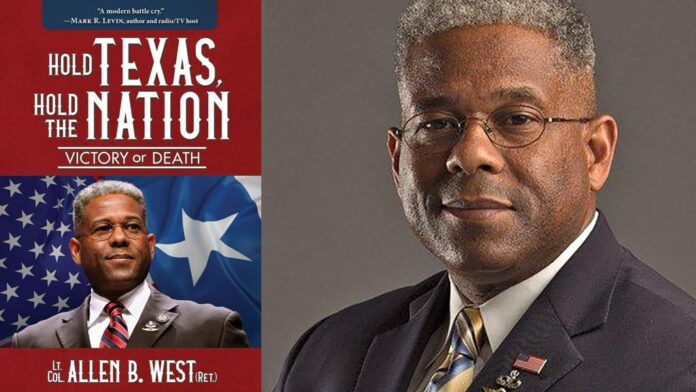 Texas is booming. In recent years, the Lone Star State has experienced some of the most rapid growth in the country, both in its economy and in its population. This is thanks to an influx of businesses relocating to Texas to take advantage of all its benefits. But this increase in population has also brought about a shift in the political dialogue within Texas's borders.
As more people pour into Texas, they bring with them liberal and socialist ideologies as they try to swing the state from red to blue. These plans for changing policies will suffocate the highly successful capitalist state and its residents, and according to Lt. Col. Allen West (Ret.), allowing these liberal ideals to creep into the legislative branch will be the death of Texas. In Hold Texas, Hold the Nation: Victory or Death, West explains how the longstanding conservative capitalist policies within the state's government have allowed it to flourish over the years, providing hard-to-ignore evidence and allowing his experience in Congress to support his argument. He makes his stand, asserting that Texas must hold fast to its conservative ways and resist succumbing to liberal mindsets, or else cease to prosper, and begin to perish.
Texas is a sustaining force for America, truly embodying the founding principles of America: those unalienable individual rights of life, liberty, and the pursuit of happiness. In Texas, it's "Victory or Death."
Editorial Reviews
Review
"A modern battle cry." — Mark R. Levin "Author and radio/TV host"
"There are few people who understand and have given more to America than Allen West . . . so when he shows his concern for the direction of Texas, we should all pay attention. His research and solutions make this a must- read for anyone who bleeds red, white, and blue." — Brian Kilmeade "Cohost, Fox & Friends; host, The Brian Kilmeade Show; New York Times bestselling author"
"Texas is under attack! Fill the sandbags, and dig the foxholes. Lt. Col. West delivers the strategy, insight, and "everything's-bigger-in-Texas" attitude to defend the conservative government ideology that built our beloved Lone Star State." — Sam Malone "Morning show host, AM 1070 The Answer, Houston, TX"
"Everything's bigger in Texas . . . including politics. Hold Texas, Hold the Nation is Allen West's powerful commentary on continued success in the Lone Star State." –Tom Delay "Former Republican Leader, US House of Representatives"
"As an American and a Texan, I am thrilled to hear anything Allen West has to say about maintaining wise, conservative government for our state and our nation. Few have walked his path as a military hero, a member of Congress, and now a valuable private-sector writer and thinker. Allen West is an American treasure." –Mark Davis "Talk show host, Salem Media Group"
About the Author
Allen Bernard West is the third of four generations of military servicemen in his family. During his 22-year career in the United States Army, Lieutenant Colonel West served in several combat zones, and received many honors including a Bronze Star, three Meritorious Service Medals, three Army Commendation Medals, one with Valor device, and a Valorous Unit Award.
In November of 2010, West was elected to the United States Congress, representing Florida's 22nd District. As a member of the 112th Congress, he sat on the Small Business and Armed Services Committees and was instrumental in passage of the 2011 and 2012 National Defense Authorization Acts.
Lt. Col. West is a Fox News Contributor, Director of the Booker T. Washington Initiative at the Texas Public Policy Foundation, Senior Fellow at the Media Research Center, contributing columnist for Townhall.com, and author of Guardian of the Republic: An American Ronin's Journey to Family, Faith and Freedom.
Lt. Col. West is the former Executive Director of the National Center for Policy Analysis in Dallas, TX, a legacy life member of the Veterans of Foreign Wars, life member of the American Legion, life member of the Association of the United States Army and the Society of the First Infantry Division, Patriot Life Member (Benefactor) and Board of Directors member of the National Rifle Association. West was appointed by Texas Lt. Gov. Dan Patrick to the Texas Sunset Advisory Commission. He lives with his family in Dallas, TX.