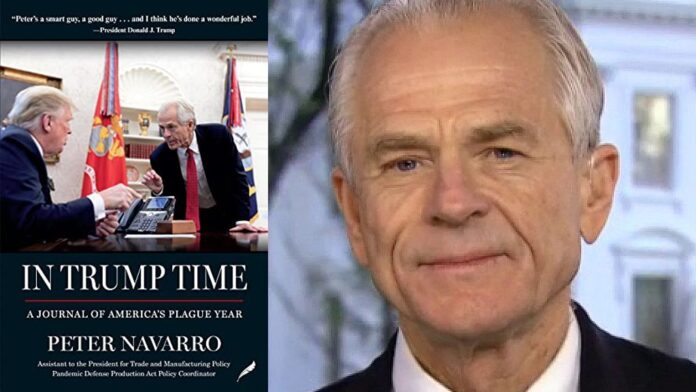 IN TRUMP TIME, A Journal of America's Plague Year, tells the story of a President who worked night and day for the American people, who built the strongest economy in modern history, who would deliver a life-saving suite of vaccines to the American people literally at warp speed, but who would ultimately lose the 2020 election.
Peter Navarro is one of only three senior White House officials by President Trump's side from the 2016 campaign to the end of the president's first term in office. Always moving In Trump Time as was his signature, Dr. Navarro was the first to sound the alarm within the West Wing about the pandemic. He played a pivotal role in the rapid development of both vaccines and therapeutics like Remdesivir. As Defense Production Act Policy Coordinator, Navarro was at the center of ramping up domestic production of critically needed Personal Protective Equipment and while helping President Trump insure that every American who needed a ventilator had a ventilator.
A compelling, page-turner of a book that tells the story of America 2020 from inside the White House.

Biography
Peter Navarro is a Harvard Ph.D. economist and professor of public policy at the University of California, Irvine. His latest book Death By China is a sequel to his best-selling book The Coming China Wars and is now a documenatry film (www.deathbychina.com).
In addition to his work on China, Professor Navarro has written numerous books on strategically managing the business cycle from both an executive and a stock trading point of view. His books include: "The Well-Timed Strategy," "Always a Winner," "If It's Raining in Brazil, Buy Starbucks," "What the Best MBAs Know," and "When the Market Moves, Will You Be Ready?"
A widely sought-after and gifted public speaker, Professor Navarro has appeared frequently on Bloomberg TV, CNN, CNBC, NPR, and all three major network news shows as well as 60 Minutes. Navarro's articles have appeared in a wide range of leading publications, including Barrons, Business Week, Harvard Business Review, The New York Times, The Wall Street Journal, and Sloan Management Review. His weekly newsletter on the economy and stock market is distributed widely and is available to the public at www.peternavarro.com.
About All Season Press
All Seasons Press was launched earlier this year by Louise Burke and Kate Hartson, publishing veterans with long careers in the book business, to take head-on the cancel culture that is destroying the publishing industry and the country. All Seasons Press is publishing the best writers, politicians, and pundits in the conservative movement. The company is open to welcoming those authors who are being attacked, bullied, banned from social media, and, in some cases, outright rejected by politically correct publishers. In Trump Time: A Journal of America's Plague Year by Dr. Peter Navarro is the first book by All Seasons Press.