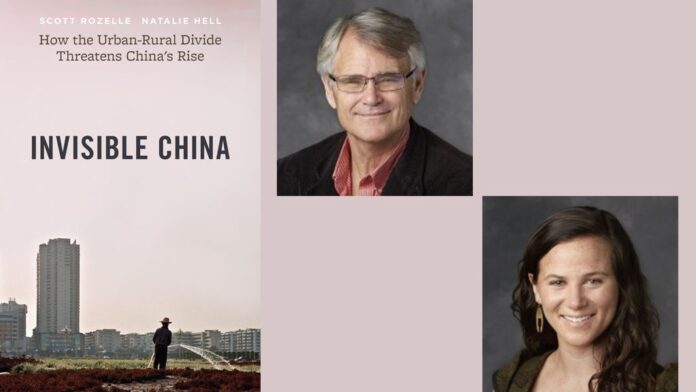 As the glittering skyline in Shanghai seemingly attests, China has quickly transformed itself from a place of stark poverty into a modern, urban, technologically savvy economic powerhouse. But as Scott Rozelle and Natalie Hell show in Invisible China, the truth is much more complicated and might be a serious cause for concern.
China's growth has relied heavily on unskilled labor. Most of the workers who have fueled the country's rise come from rural villages and have never been to high school. While this national growth strategy has been effective for three decades, the unskilled wage rate is finally rising, inducing companies inside China to automate at an unprecedented rate and triggering an exodus of companies seeking cheaper labor in other countries. Ten years ago, almost every product for sale in an American Walmart was made in China. Today, that is no longer the case. With the changing demand for labor, China seems to have no good back-up plan. For all of its investment in physical infrastructure, for decades China failed to invest enough in its people. Recent progress may come too late. Drawing on extensive surveys on the ground in China, Rozelle and Hell reveal that while China may be the second-largest economy in the world, its labor force has one of the lowest levels of education of any comparable country. Over half of China's population—as well as a vast majority of its children—are from rural areas. Their low levels of basic education may leave many unable to find work in the formal workplace as China's economy changes and manufacturing jobs move elsewhere.
In Invisible China, Rozelle and Hell speak not only to an urgent humanitarian concern but also a potential economic crisis that could upend economies and foreign relations around the globe. If too many are left structurally unemployable, the implications both inside and outside of China could be serious. Understanding the situation in China today is essential if we are to avoid a potential crisis of international proportions. This book is an urgent and timely call to action that should be read by economists, policymakers, the business community, and general readers alike.
Editorial Reviews
Review
"If rural Chinese do not learn essential cognitive skills, the authors predict mass unemployment, social unrest and perhaps a crash that would 'lead to huge economic shocks around the world.' China's rulers should order crates of de-worming pills—and copies of this book."― Economist
"While the world focuses on China's rich, the country is facing economic and political disaster if it doesn't invest heavily in educating its rural population, the economists Scott Rozelle and Natalie Hell argue in this recent book. Both authors are part of the successful US-China Rural Education Action Program. As they note, Taiwan and South Korea escaped the middle-income trap by ensuring that large numbers of students finished high school, enabling the move to a higher-end economy. In China, by contrast, the high school attainment rate is just 30 percent."― Foreign Policy
"Invisible China provides a stunning overview of economic, health and education policies in rural China."― East West Notes
"An important and informative new book . . . suggests that China lacks the educated workforce to capitalize on its success and reach the next rung in the ladder of development. . . . Making invisible China more visible is a necessary first step to bring meaningful changes in rural China. This new book by Rozelle and Hell is an important contribution to this endeavor."― Peterson Institute for International Economics
"This book by development economist Scott Rozelle and researcher Natalie Hell highlights problems that often remain invisible in the face of China's rapid economic rise. It's the drama of the rural low-educated workers who were the motor driving China's growth since the 1980s, but are now more and more left jobless and hopeless in their home villages as low-skilled work is increasingly outsourced to other countries or is taken over by robotics. In many ways, China and the Chinese people are going forward – yet the rural population is left behind, and it's China's Achilles' heel. This book focuses on this invisible side to China's rise and on how such a big story, with such major implications, could be so little known."― What's on Weibo
"The authors are in no way hostile to China or its government system. But having spent years researching in rural China they not only feel strongly for this unseen China but want the situation to change so that China continues to prosper and thus enable the wider world to prosper."― Asia Sentinel
"Invisible China is an important, clearly argued, and original work. It presents a side of China that is all too evident to hundreds of millions of people living there, but that often escapes notice internationally. Anyone interested in China's economic and political future, and its impact on the world, will want to read this book."
— James Fallows, author of Postcards from Tomorrow Square: Reports from China
"No one knows rural China better than Scott Rozelle. In this brilliant, original, thought-provoking, and important study, Rozelle and Natalie Hell not only make China's potential human capital crisis visible, but provide actionable solutions based on rigorous research."– Hongbin Li, James Liang Director of the China Program, Stanford University
"Professor Rozelle is a renowned economist specializing in early childhood education and rural development, and his book on rural China is a culmination of over twenty years of research on rural China, which has generated intense interest among policymakers and philanthropists. He convincingly argues that intervention into early childhood education is the most effective way of reducing the inequality that is a problem not only in rural China but in many parts of the world."
— James Liang, chairman and cofounder of Ctrip
"This is the most readable and compelling economics book of the year, and probably the most important. From the opening pages, a clear and compelling argument unfolds: China faces a labor quality crisis, as hundreds of millions of young rural workers lack the education and robust health they need to participate in China's emerging high tech economy. Nobody who cares about China can afford to ignore Invisible China."– Barry Naughton, School of Global Policy and Strategy, University of California, San Diego
About the Author
Scott Rozelle is a senior fellow at the Freeman Spogli Institute for International Studies and holds the Helen F. Farnsworth Endowed Professorship at Stanford University. Rozelle codirects the Rural Education Action Program (REAP) and is a faculty affiliate at the Center on Democracy, Development, and the Rule of Law.
Natalie Hell is a writer and researcher. As part of REAP, she has worked on Chinese education and health issues for the past seven years.
Invisible China: How the Urban-Rural Divide Threatens China's Rise | Scott Rozelle and Qin Gao