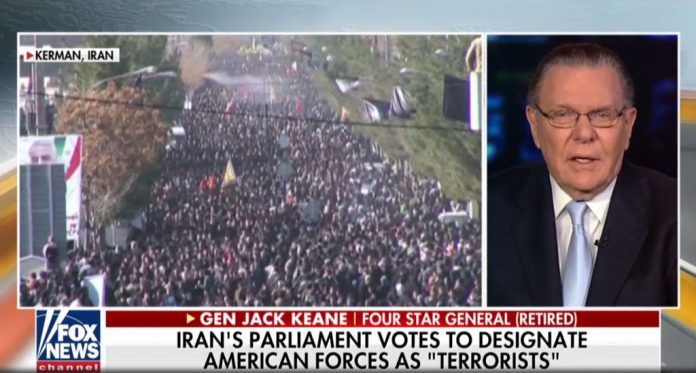 Keane: Soleimani attack 'stunned & surprised' Iranians
Jan. 08, 2020 – 1:44 – "This is only the second time in 40 years the Iranians have blinked," says Gen Jack Keane discussing the opportunity the U.S. now has to negotiate with Iran.
Keane defends Soleimani strike: Iran was planning a major attack to kill Americans. What if Trump did nothing?
Jan. 07, 2020 – 5:42 – Fox News senior strategic analyst Gen. Jack Keane defends President Trump's decision to order an airstrike against Iran's top general, saying there will be a measured retaliation but not war.
Keane: Don't take Iran's 'bombastic rhetoric' too seriously
Jan. 07, 2020 – 1:22 – "Keep things in perspective, there's not going to be a WWIII," says General Jack Keane providing perspective on the escalating tensions between Iran and the U.S.