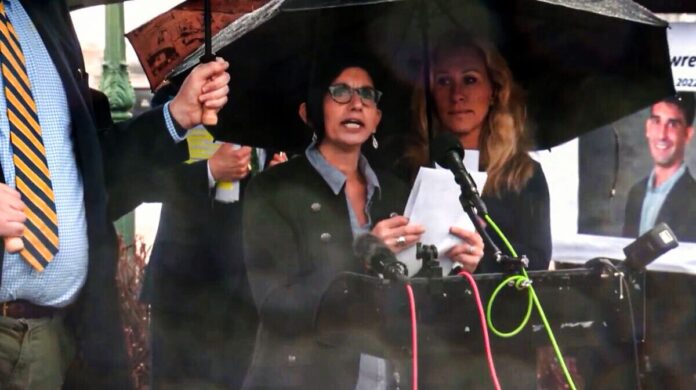 Matthew L. Perna's aunt, federal lawmakers sound the alarm on treatment of Jan. 6 defendants, detainees
The 14-month ordeal battling charges from his time at the U.S. Capitol on Jan. 6, 2021, had put so much stress on Matthew L. Perna that he began throwing up blood.
When the U.S. Department of Justice (DOJ) asked to delay his sentencing and announced that it would seek more prison time, it was a bridge too far. Perna took his own life on Feb. 25 in Sharon, Pennsylvania. He was 37.
"Worry, anxiety, stress had worn him down," Geri Perna, his aunt, said at a Capitol Hill news conference on March 17. "He suffered constant nightmares and began throwing up blood. He was no longer comfortable leaving his home.
"One setback after another took its toll on him. And he just wanted it to be over. His attorney encouraged him to plead guilty by telling him that he would not receive a fair trial in this town."
Perna stood in driving rain near the steps of the Capitol, alongside three members of Congress, to decry the treatment of Jan. 6, 2021, Capitol breach defendants by the DOJ, much of society, and influencers on social media.
'A Feeling of Shame'
Collectively, they sounded the alarm that U.S. society is at a precipice, close to losing the freedoms that have been taken for granted for so long.
"Matt walked through an open door into this Capitol building, a monument that has been called the People's House," Geri Perna said. "Standing here in front of this building does not give me a sense of pride, but instead [it] is replaced by a feeling of shame."
Matthew Perna had pleaded guilty to one felony count of obstruction of an official proceeding, the congressional certification of the presidential election results. He also pleaded guilty to three misdemeanor charges.
He spent about 20 minutes inside the Capitol on Jan. 6. After his sentencing was initially scheduled for March 3, prosecutors announced that they sought to add penalty enhancers that would have meant 41 to 51 months in prison.
"Although Matthew Perna may have taken his last breath on Feb. 25, his death began in January 2021 after he was arrested and a nightmare like no other began," Geri Perna said. "It affected everyone in our family, but we stood by his side proudly."
Rep. Louie Gohmert (R-Texas) ripped the DOJ for the sentencing delay.
"The Department of Justice wasn't sure they had beat up on this guy enough," Gohmert said.
He lauded Matthew Perna for a life of service, including a mission trip to hurricane-ravaged Haiti.