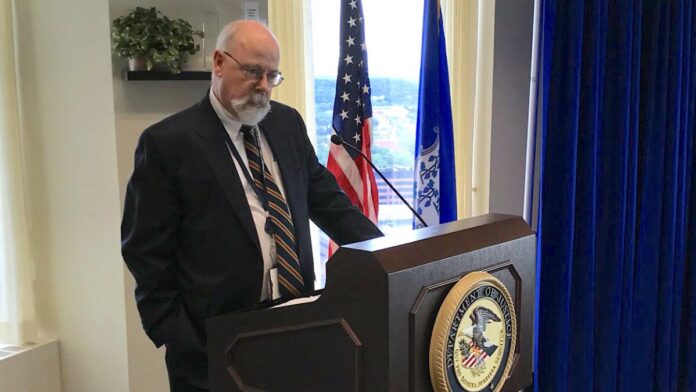 Special counsel John Durham has issued trial subpoenas for Hillary Clinton's 2016 campaign, the Democratic National Committee (DNC), Fusion GPS, and Perkins Coie as he continues to prosecute his findings as special counsel, from which he charged cybersecurity lawyer Michael Sussmann, who in 2016 represented the Clinton campaign, with lying to the FBI.
Hillary Clinton's 2016 campaign, the DNC, Washington-based private intelligence firm Fusion GPS, and law firm Perkins Coie, Sussmann's former employer, meanwhile, are trying to fend off Durham's efforts to compel them to hand over previously withheld documents.
The campaign and Sussmann's lawyers argue that attorney-client privilege should allow them to keep the records concealed.
Durham, who was tasked around March-May 2019 with reviewing the origins of the 2016-2017 FBI investigation of the now disproven Trump–Russia collusion narrative, says his investigation has led him to believe that the Clinton-allied groups played a coordinating role in pushing the false claims.
In May 2017, special counsel and former FBI head Robert Mueller ultimately found no Trump-Russia collusion to sway the 2016 election.
Earlier this month, Durham said that Fusion GPS "was not primarily providing or supporting expertise relating to legal advice; instead, it appears that the investigative firm's primary, if not sole, function was to generate opposition research materials that the firm then shared widely."
On April 23, Durham said of the groups, "meeting to agree on the express goal of a joint venture is precisely what happened here, on more than one occasion."
The special counsel said that "Tech Executive-1" Rodney Joffe, "Originator-1" April Lorenzen of the information services firm Zetalytics, and other researchers started to discuss "searching for and collecting derogatory internet data about the online activities of Donald Trump and his associates" in June 2016.
Lorenzen "assembled and shared initial purported data" with Joffe, "who, in turn, shared the data" with Sussmann, Durham added.
Read Full Article on TheEpochTimes.com