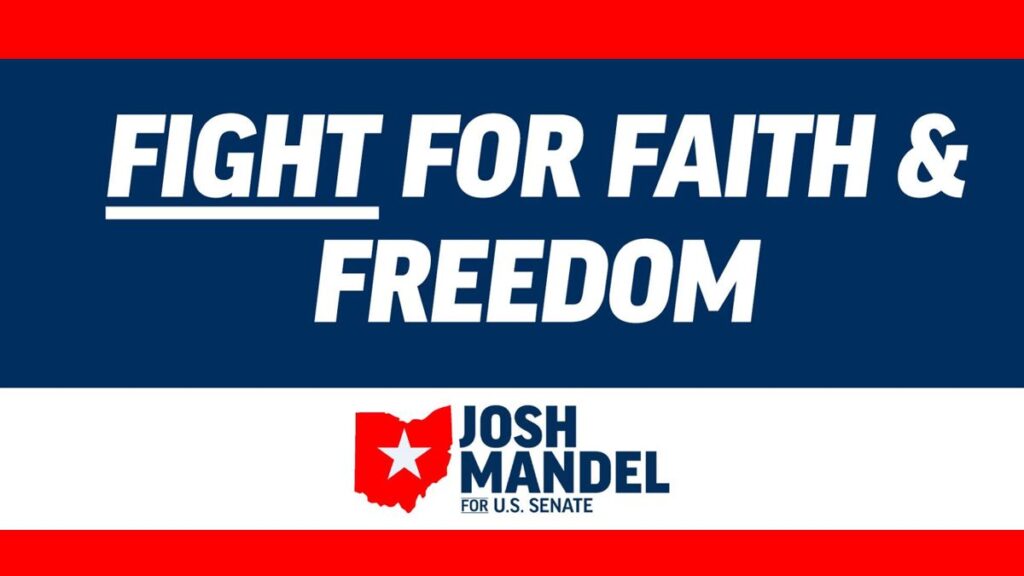 PRO-GOD • PRO-GUN • PRO-TRUMP
I'm not going to Washington DC to make friends, I'm going to fight for the America first agenda.
About Josh
Josh Mandel, 43, recently completed two terms as Treasurer of the State of Ohio, overseeing the state's $22B+ investment portfolio and $232B+ pension custody portfolio. Josh was elected in 2010 and re-elected in 2014, winning both elections by double-digit margins.
In 2014 Josh introduced OhioCheckbook.com, a first-of-its-kind transparency website posting online over $690 billion of state spending. As a result of his innovation in this area, Josh launched Ohio from 46th to the #1 ranking in America for government transparency.
In 2018 Josh launched OhioCrypto.com, making Ohio the first state in the nation to enable taxpayers to pay taxes with cryptocurrency. This initiative was part of his broader drive to motivate policymakers and business leaders to embrace blockchain technology.
When Josh took office, Ohio's finances were ranked 43rd in the nation and the state faced an $8 billion budget hole. By the end of his first term, Ohio's financial ranking had improved to 7th in the nation and the state had more than a $1 billion surplus.
Along the way, Josh was recognized with the Association of Government Accountants award for "Excellence in Financial Management", the American Society for Public Administration's award for "Integrity and Ethical Conduct in Public Service", and the State Financial Officers Foundation award for "Transparency in Government". Josh was also recognized by the National Down Syndrome Society and National Association of Councils on Developmental Disabilities for creating innovative tax-free investment accounts geared towards individuals with special needs.
Josh's previous elected experience included two terms in the Ohio House of Representatives, where he was elected after knocking on 19,679 doors and wearing out three pairs of shoes discussing the needs and concerns of his constituents. During his time in the state legislature, Josh served as the Ranking Member of the Financial Institutions, Real Estate, and Securities Committee.
Inspired by a strong sense of duty, Josh enlisted in the Marine Corps Reserves in 2000, where he graduated first in his class from Marine Corps Boot Camp and first in his class from Marine Corps Intelligence School. His Marine Corps career spanned eight years, including two tours in Anbar Province, Iraq. During both tours, Josh was awarded the Navy and Marine Corps Achievement Medal for "superior performance of his duties."
Josh holds a bachelor's degree from The Ohio State University, a Law Degree from Case Western Reserve University, and resides in the Cleveland, Ohio area. He has three children – Rosie, Judah, and Gideon.
On The Issues
Fighting for President Trump's America First Agenda
Protecting Life From Conception Until Natural Death
Protecting the Judeo-Christian Bedrock of America
Fighting For Our 2nd Amendment Rights
Taking on the Radical Left
Taking on Squishy Establishment RINOs
Fighting against CRT, Wokeism, and Cancel Culture
Fighting for Term Limits
Using the Constitution and the Bible as My Guide