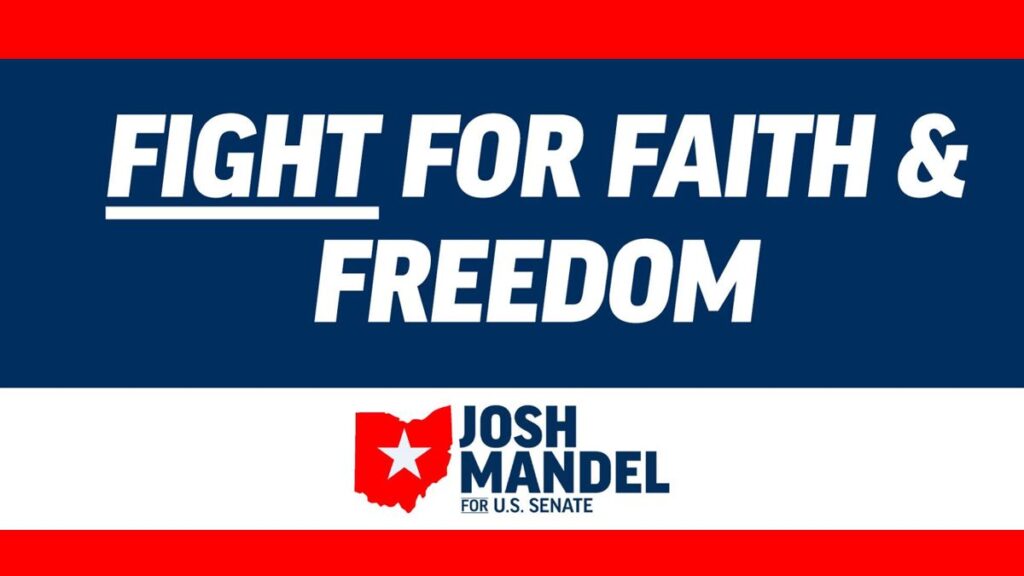 PRO-GOD • PRO-GUN • PRO-TRUMP
I'm not going to Washington DC to make friends,
I'm going to fight for the America first agenda.
On The Issues
Fighting for President Trump's America First Agenda
Protecting Life From Conception Until Natural Death
Protecting the Judeo-Christian Bedrock of America
Fighting For Our 2nd Amendment Rights
Taking on the Radical Left
Taking on Squishy Establishment RINOs
Fighting against CRT, Wokeism, and Cancel Culture
Fighting for Term Limits
Using the Constitution and the Bible as My Guide
Visit the Josh Mandel For U.S. Senate Website
Family Values
"The Nuclear Family Unit Must Be Protected." – Josh Mandel
I believe that the nuclear family unit is foundational to a healthy society and must be protected. We must foster an environment for job creation and economic growth because having a job brings dignity, self-value and purpose. As a state legislator, I worked to promote adoption as an alternative to abortion and to streamline the adoption process. I strongly believe that traditional marriage is between a man and a woman. The far-left's obsession with gender identity is ridiculous and wrong – there are NOT numerous genders as the left wants us to believe. There are two: boys and girls. Children cannot choose their own gender. We need to let kids be kids.
Education
"Decisions On Education Belong In The Hands Of Moms And Dads, Not Faceless Bureaucrats In Washington." – Josh Mandel
As one of Ohio's leading advocates for parental choice, I believe that a zip code shouldn't determine a child's educational outcome and that parents should be free to seek the best possible education for their child, whether in public, religious, charter, home, or whatever school they may choose.
Applying free-market principles to the education world will make all ships rise, and ultimately produce stronger, more disciplined, and better-educated children to compete and succeed in the global marketplace. As State Treasurer, I proudly and vocally fought against John Kasich's Common Core standards implementation in Ohio.
As a Senate candidate, I have campaigned across Ohio on eliminating Critical Race Theory from schools, and he I was the first to call on the State of Ohio to remove references to the 1619 Project from being listed as a "resource" for Ohio schools. I strongly believe that decisions on education belong in the hands of Moms and Dads, not faceless bureaucrats in Washington, D.C., and will work to eliminate the Department of Education.
Visit the Josh Mandel For U.S. Senate Website
Border Issue
"We Must Immediately Finish President Trump's Border Wall And Increase Our Border Patrol To Stop The Flow Of Illegal Immigrants At The Border." – Josh Mandel
What is happening at the southern border of the United States is a disgrace and Joe Biden should be held responsible for the invasion that is taking place. Illegal immigrants are streaming into the United States at an unprecedented rate, bringing drugs, disease, gang activity, and weapons, all at a significant cost to the American taxpayer and the safety of American citizens. We must immediately finish President Trump's border wall and increase our border patrol to stop the flow of illegal immigrants at the border.
Constitution/Bible
In the United States Senate, I will make every decision with two documents in mind: the Bible and the Constitution.
The founders of our nation envisioned a country built on the Judeo Christian values that the Bible teaches and we must fight to protect this bedrock of America. Our rights come from God and we must defend liberty that is afforded to us by our founders in the Constitution.
The Constitution is the ultimate political codification of the Judeo-Christian moral framework, the Founders knew this and knew these things were inextricable in free society. As a proud American, proud Jew and proud Marine, I will do everything I can to protect our Constitution, our Country and our values that have been in existence for thousands of years.
Second Amendment
"I Will Oppose Any Effort To Infringe Upon This Right." – Josh Mandel
The Second Amendment to the Constitution is an individual right for all Americans and must be protected at all costs. In the United States Senate, I will oppose any effort to infringe upon this right and will fight any effort to inhibit our Constitutional ability to purchase and carry firearms.
I strongly oppose so-called "assault weapons" bans, background check legislation, and "red flag" gun confiscation legislation. Constitutional carry is afforded to us by the Second Amendment and no state should infringe upon those rights; it should be the law of the land regardless of state.
Visit the Josh Mandel For U.S. Senate Website
Veterans/Military
"It Is A National Disgrace That We Have Homeless Military Vets Anywhere In America." – Josh Mandel
Regardless of the politics of a war, the American people recognize the sacrifice and heroism of the troops who offer life and limb when country calls. We support the troops even when we don't support the war. As a proud Marine Corps Veteran who served two tours of duty in Iraq, I believe that we owe a debt a gratitude to anyone who wore the uniform of this great country and must always care for our great military veterans.
Sadly, President Biden and many Democrats are quick to forget. The Biden withdrawal from Afghanistan was an unmitigated disaster that resulted in lost soldiers and Americans stranded in Taliban controlled lands. Joe Biden has the blood of these lost soldiers on his hands and must be held accountable.
It is a national disgrace that we have homeless military vets anywhere in America while we allow illegal immigrants and others to flow, unchecked, across our borders while taxpayer dollars fund their accommodations, medical care, and relocation. In the United States Senate, I will put our veterans FIRST and do everything in my power to fight on their behalf after they fought for us.
Visit the Josh Mandel For U.S. Senate Website
Visit the Josh Mandel For U.S. Senate Website
About Josh
Josh Mandel, 43, recently completed two terms as Treasurer of the State of Ohio, overseeing the state's $22B+ investment portfolio and $232B+ pension custody portfolio. Josh was elected in 2010 and re-elected in 2014, winning both elections by double-digit margins.
In 2014 Josh introduced OhioCheckbook.com, a first-of-its-kind transparency website posting online over $690 billion of state spending. As a result of his innovation in this area, Josh launched Ohio from 46th to the #1 ranking in America for government transparency.
In 2018 Josh launched OhioCrypto.com, making Ohio the first state in the nation to enable taxpayers to pay taxes with cryptocurrency. This initiative was part of his broader drive to motivate policymakers and business leaders to embrace blockchain technology.
When Josh took office, Ohio's finances were ranked 43rd in the nation and the state faced an $8 billion budget hole. By the end of his first term, Ohio's financial ranking had improved to 7th in the nation and the state had more than a $1 billion surplus.
Along the way, Josh was recognized with the Association of Government Accountants award for "Excellence in Financial Management", the American Society for Public Administration's award for "Integrity and Ethical Conduct in Public Service", and the State Financial Officers Foundation award for "Transparency in Government". Josh was also recognized by the National Down Syndrome Society and National Association of Councils on Developmental Disabilities for creating innovative tax-free investment accounts geared towards individuals with special needs.
Josh's previous elected experience included two terms in the Ohio House of Representatives, where he was elected after knocking on 19,679 doors and wearing out three pairs of shoes discussing the needs and concerns of his constituents. During his time in the state legislature, Josh served as the Ranking Member of the Financial Institutions, Real Estate, and Securities Committee.
Visit the Josh Mandel For U.S. Senate Website
Inspired by a strong sense of duty, Josh enlisted in the Marine Corps Reserves in 2000, where he graduated first in his class from Marine Corps Boot Camp and first in his class from Marine Corps Intelligence School. His Marine Corps career spanned eight years, including two tours in Anbar Province, Iraq. During both tours, Josh was awarded the Navy and Marine Corps Achievement Medal for "superior performance of his duties."
Josh holds a bachelor's degree from The Ohio State University, a Law Degree from Case Western Reserve University, and resides in the Cleveland, Ohio area. He has three children – Rosie, Judah, and Gideon.
Visit the Josh Mandel For U.S. Senate Website