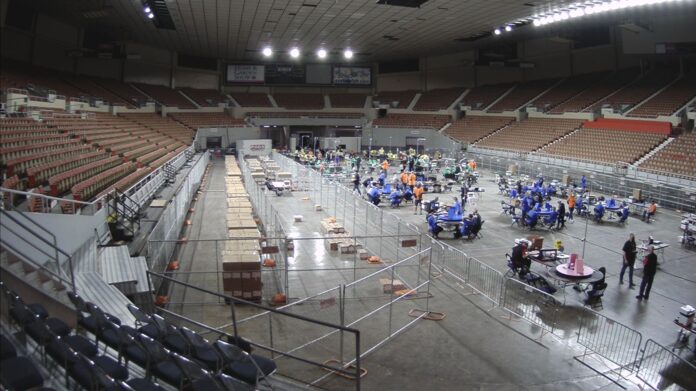 Breaking: Maricopa County Judge denies Democrat's request to stop the election audit. The audit continues!

— Maricopa Arizona Audit (@ArizonaAudit) April 28, 2021
Watch the Arizona Election Audit on AZAudit.org
An Arizona judge on Wednesday rejected an attempt by the Arizona Democratic Party to immediately halt an audit of the 2020 election going on in the state's largest county.
Maricopa County Superior Court Judge Daniel Martin said Democrats did not provide "substantive evidence of any breaches or threatened breaches of voter privacy."
The lawsuit, filed just before the audit started last week, may ultimately succeed, the judge added. But it fell short of the "strong likelihood" of succeeding standard required for a temporary restraining order.
Martin said he could also not say that the balance of hardship in the case or public policy favors the plaintiffs.
Arizona Democrats must now decide whether to seek a review of the ruling from a higher court or to advance to an evidentiary hearing to try to make their case for an injunction.
Lawyers for the party had argued that Cyber Ninjas, one of four firms hired by the Arizona Senate to conduct the audit, did not properly train their personnel and had not implemented plans for security procedures, such as securing ballots.
But the exhibits they entered, including local news reports alleging lax security at the Arizona Veterans Memorial Coliseum in Phoenix, where the audit is taking place, did not contain enough evidence to convince the judge to halt the process.
Martin said he took into account how the audit has already started and that halting it would cause a "significant disruption."
The hearing took place one day after Martin, who assumed the case after the previous judge recused himself, decided against halting the audit. But he also said he could stop it during the next hearing, stoking further interest in Wednesday's proceedings.
Read Full Article on theEpochTimes.com
Watch the Arizona Election Audit on AZAudit.org