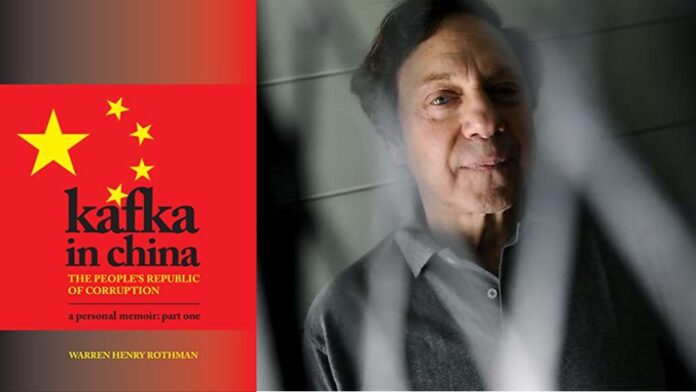 KAFKA IN CHINA, The People's Republic of Corruption is the true story of attempted murder, torture, black jails, and fraudulent incarceration in a Shanghai mental hospital committed against the author as the result of a blurt-out to him about a large bribe allegedly paid by an iconic American company to Chinese officials. The fraudulent incarceration was accomplished with purported letters from the US Consulate General in Shanghai. The Pulitzer Prize winning reporter Joel Brinkley reported this case in depth in Politico and the San Francisco Chronicle in 2012.
The author is telling the complete story in the belief that Americans can best learn from an American what it means to be caught up in the Chinese Communist kleptocracy and thereby understand the plight of ordinary Chinese who are routinely brutalized by that regime, and further that it is unrealistic to think that China has adopted or to hope that it ever will adopt anything approximating Rule of Law under this regime.
KAFKA IN CHINA, The People's Republic of Corruption also raises the following serious questions: why has the State Department refused to answer whether the purported US Consulate General letters are genuine or forgeries; whether the State Department was complicit in what happened to the author; whether the State Department covered up any involvement; whether certain US media companies refused to cover this story in order to protect their own interests.
This book is being published in parts; this volume is part one.
Includes 28 photographs by the author, in full color in print on createspace.com and in kindle version; available in print in black and white on amazon.com.
From the back cover:
"Rothman recounts with mastery and artful suspense his experience of two decades of going native, and of what happened when he accidentally learned too much about local customs. KAFKA IN CHINA is a Kafkaesque story of resistance to the evils of state control, when even one's own country is in on the hunt. It sends chills down the spine of anyone doing business, or even travelling, abroad." – R. Howard Bloch Sterling Professor of French, Yale University
"For a personal account of one Westerner's abuse in modern-day China, Rothman's chilling and beautifully written memoir is essential reading." – Lew Spratlan Composer, Pulitzer Prize in Music
"This is an extraordinary book about the dark side of China that our American media and government have done so much to cover over. This is a must read." – Williamson Murray Professor Emeritus of Military History, Ohio State University
About the Author
Warren Henry Rothman holds three degrees from Yale University, B.A. (1965), LL.B. (1970), and M.A. (1970). He is fluent in written Chinese and spoken Mandarin. As a Freshman at Yale College he began his study of Chinese history which became his principal academic pursuit. In 1980, just after China opened to foreign trade and investment, he was recruited to work for a major multinational to manage projects in China and throughout Asia and Eastern Europe. Since the 1990s, Rothman has focused nearly all his attention as a lawyer and management consultant on China for industrial, media, and Internet projects. In 2000, he moved to Beijing to work full time for an elite law firm. He abruptly left China in 2008 after the experience described in this book. Rothman, a tenor, has sung opera professionally and is currently working on recordings to be released in 2016.