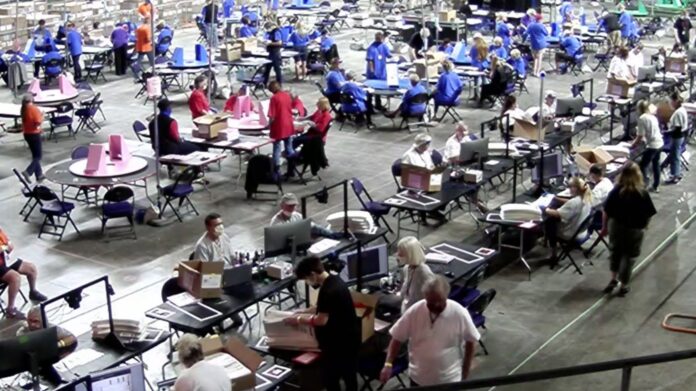 Delegations from Pennsylvania, Georgia, and Alaska were given tours of Veterans Memorial Coliseum, where the audit is taking place in Phoenix. Michael McDonald, the Nevada Republican Party chairman, went to the venue to see what was happening, as did others from Colorado. Virginia Sen. Amanda Chase, a Republican, is expected to visit on Thursday.
"It's just a revolving door," Ken Bennett, former Arizona secretary of state, told The Epoch Times.
Bennett is the Arizona Senate's liaison for the audit.
Lawmakers visiting the audit were shown how workers are hand counting the nearly 2.1 million ballots cast in Maricopa County last year, in addition to evaluating the paper for abnormalities like mail-in ballots not having folds. They learned about audit procedures like how the ballots are being examined and chain-of-custody processes. Many said they hoped to take what they learned back to their states and order a similar audit there.
"We have a lot of the same concerns and issues unresolved in Pennsylvania," Pennsylvania Sen. Doug Mastriano, a Republican, told The Epoch Times, noting that numerous constituents have told him that they want an audit performed to address fraud concerns.
"When you have about 47 percent of the state's population questioning the reliability of the election, that's the significance of your problem. And so the only way I could see ahead of this putting this all to rest—and let the cards fall where they may—do a scientific forensic audit, like Arizona's doing," he added, referencing poll numbers.
The Arizona Senate Judiciary Committee, with the backing of Senate President Karen Fann, last year subpoenaed ballots and other election materials from Maricopa County. After a court battle, which ended with a judge declaring the subpoenas valid, the Senate-hired teams received the materials at the Coliseum in mid-April before commencing with their work.
Read Full Article on TheEpochTimes.com