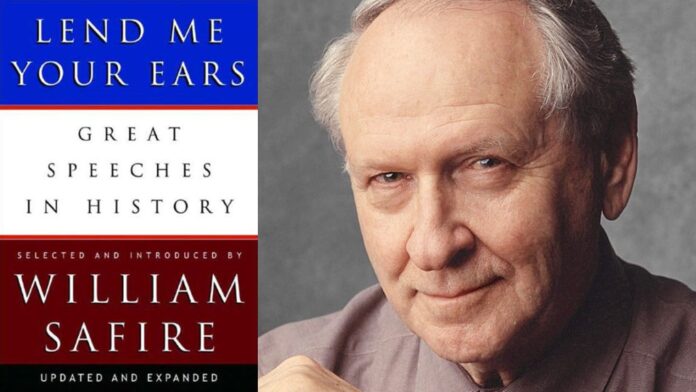 The definitive compendium of classic oratory–a book for and of the ages now made even richer and more contemporary. William Safire's invaluable and immensely entertaining Lend Me Your Ears established itself instantly as a classic treasury of the greatest speeches in human history. Selected with the instincts of a great speechwriter and language maven, arranged by theme and occasion, each deftly introduced and placed in context, the more than two hundred speeches in this compilation demonstrate the enduring power of human eloquence to inspire, to uplift, and to motivate. For this expanded edition Safire has selected more than twenty new speeches by such figures as President Bill Clinton, Senator Robert Dole, General Colin Powell, Microsoft's Bill Gates, the Dalai Lama, Edward R. Murrow, Alistair Cooke, the Buddha, and the late Israeli Prime Minister Yitzhak Rabin. They prove that even in a digital age the most forceful medium of communication is still the human voice speaking directly to the mind, heart, and soul.

Reviews
From Library Journal
This new edition of Safire's book, originally published in 1992, retains all the speeches in the first edition and adds 20 new ones, such as Pope Urban II launching the crusades, Bob Dole remembering Richard Nixon, and Colin Powell on racial hatred. Safire's criteria are subjective, a speech is included if he thinks "it's great", and the tone of his unhelpful introduction is one of strained cuteness. Most collections of speeches focus narrowly on particular subjects such as American or classical speeches, with few attempting, like Safire's, to cover all times and places. In fact, The Guide to Reference Books lists only one: Brewer's ten-volume World's Best Orations, published in 1901. Not surprisingly, there is virtually no overlap between Brewer's 350 and Safire's 220 selections. Safire's book is not really necessary for libraries owning the first edition, but it is a good addition for those lacking Brewer's or in need of modern speeches. With an excellent index. ~ Peter A. Dollard, Alma Coll. Lib., Mich. Copyright 1997 Reed Business Information, Inc.
Review
Bill Safire's collection of galvanizing speeches ancient and modern is wonderfully done, the taste in the selection eclectic, discriminating, piquant, and enchantingly introduced. — William F. Buckley, Jr.
My fellow Americans, this Safire is a gem. — Peggy Noonan
About the Author
William Safire is perhaps the most widely read and influential political columnist in America. Every Sunday his popular "On Language" column appears in the New York Times Magazine. Safire lives in Washington, D.C. He is a member in good standing of the Judson Welliver Society of former White House speechwriters.