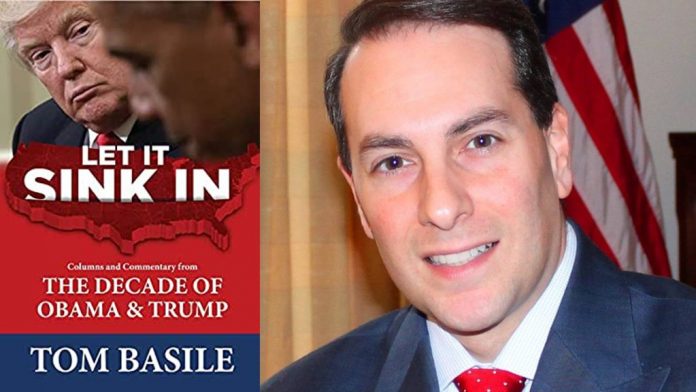 Defending American Freedom in the 2020s, Starts with Understanding the 2010s.
Through this curated selection of his columns from the 2010s and new commentary on America's most pressing challenges, Tom Basile takes readers on a journey through a tumultuous decade to ensure we have a battle plan for the future. We need to let it sink in that the threats to American freedom and values are real. The ideology advanced in the 2010s by the far Left with the help of the tech industry, entertainment, education, news media, big government liberals, status quo conservatives, secular humanists and others must spur real action to protect our way of life as we tackle the 2020s. As Basile discusses, activists driving change in our society are not just a ragtag band of Astroturf eco-warriors, anti-cop lunatics, or rabid, pink-hat-wearing feminists. In the last decade, they've been strengthened by technology, media and billions in capital invested in their causes. Government's failures during the 2010s were equally profound and should also serve to refocus all Americans on our proven formula for exceptionalism. Basile believes that freedom-loving Republicans and traditional Democrats can reverse the trends that threaten the promise of America, drive division and seek to destroy our values. Let it Sink In offers a roadmap for the 2020s that will make Americans stronger and America even greater.
Biography of the Author
Author, columnist and commentator Tom Basile has been in the middle of the action on the biggest stories and hottest issues of the two last decades. His work in the worlds of politics, government, media and business have made him a powerful voice in our national conversation, with a reputation for credibility, candor and common sense.
The former host of 'Sunday in America' on SiriusXM Radio, and an Opinion Contributor to Forbes from 2012-2018, his columns today are read widely on FoxNews.com, Newsmax.com and other outlets. He has served in government at the local, state and federal levels, including in the Administration of President George W. Bush in various capacities. Basile served as executive director of the New York State Republican Party from 2009-2011.
In 2011, he was one of only two American conservatives featured as part of Time Magazine's 'Person of the Year' special edition about grassroots citizen engagement around the world.
His critically-acclaimed book Tough Sell: Fighting the Media War in Iraq (Potomac, 2017), gives readers his personal account of the Iraq mission and the daily battle to communicate about the war to the American public. The book earned a foreword from Ambassador John R. Bolton.
For more than a decade he has run Empire Solutions, a New York-based strategic communications firm. He has served on the faculty of Fordham University's Graduate School of Arts and Sciences since 2008 and is a member of the New York Bar.
Learn more about him on the Tom Basile Website