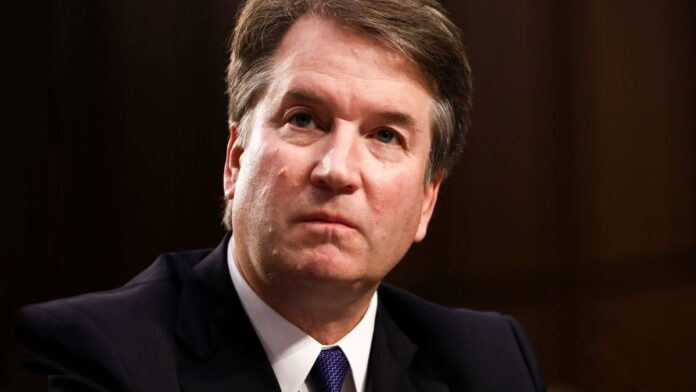 A California man pleaded not guilty on June 22 to attempting to murder Supreme Court Justice Brett Kavanaugh.
Nicholas John Roske, 26, of Simi Valley, appeared in federal court in Greenbelt, Maryland, near the home of Kavanaugh.
Roske bowed his head and clasped his hands around his neck as he answered U.S. Magistrate Judge Ajmel Quereshi's questions.
Quereshi set a tentative trial date for Aug. 23.
During the arraignment, Roske's public defender, Andrew Szekely, told the judge that he was satisfied his client was getting the medical care and unspecified medication that he needs while in custody.
During Roske's first court appearance, he said he was on medication and that he "wouldn't say that I'm thinking clearly," although after conferring with Szekely, he said he was aware enough for the hearing to continue.
Roske faces life in prison for allegedly trying to assassinate a Supreme Court justice. He has remained locked up, and has not yet tried to secure pretrial release.
Roske was arrested early June 8 dropped off by a taxi outside Kavanaugh's home in Chevy Chase, according to court documents.
Roske saw two deputy U.S. Marshals outside Kavanaugh's home—the houses of all nine Supreme Court justices are being protected after the leak of a draft opinion spurred an increase in threats of violence and protests—and walked down the street. After texting with his sister, he called 911 on himself and was taken into custody by local police without incident.
Roske was found with a pistol, ammunition, a speed loader, a chest rig, a belly band holster, a black face mask, burglary tools, and other items.
Roske told authorities after he was arrested that he planned to break into Kavanaugh's home and kill the justice before committing suicide.
Roske said he was driven by fears Kavanaugh, a Trump appointee, would vote to strike down Roe v. Wade, as the leaked draft opinion indicated. The finalized opinion has not yet been released.
Read Full Article on TheEpochTimes.com