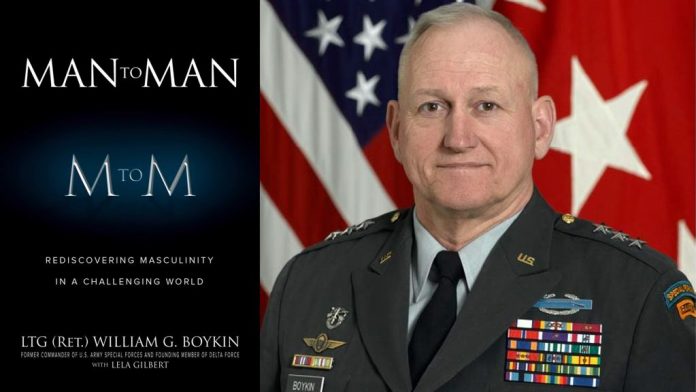 Given the all-out assault on the American male in today's society, Man to Man: Rediscovering Masculinity in a Challenging World by LTG (Ret.) William G. Boykin delivers Biblical solutions to make American men strong again.
Masculinity in America has never been under attack the way it is today. We have reached the point where the term itself is considered toxic or offensive to many. American men are conflicted as to what their role is in society. The consistent message that has proliferated in our nation is that masculinity, by nature, is bad and is the root cause of many of the problems plaguing our society. Everything from racism to pedophilia has been blamed on "toxic masculinity." Some colleges and universities are now offering classes on how to overcome or be delivered from this very "threatening" phenomenon called "masculinity."
If men take up Biblical mandates ordained by their Creator—no matter their color, nationality, station, upbringing, or education—a new vision can be cast and executed that will restore a civil and prosperous America for all.
Editorial Reviews
Review
"In Man to Man, my dear friend, American hero, LTG William 'Jerry' Boykin has clearly laid out God's master plan for men and our crucial role in American culture. The future of our nation depends on reestablishing Godly manhood and this book is the strategy to get us there. Get it for yourself, the men with whom you keep company, and tell your church about it." — Oliver L. North, best-selling author of The Rifleman
"Young men aspire to it. Women admire them. A real man. We all understand that when men get it right, everyone wins—men, women, children. But when a man gets it wrong, everyone hurts. Badly. It's not easy being a real man in a culture where the definition of masculinity is in a moral free fall. In a day of extremism surrounding gender issues, Man to Man offers a refreshing and respectful balance in pointing the way to real manhood. Every man needs a manly mentor to show him the path to real manhood. Jerry Boykin is such a man. His military resume over a lifetime in Special Operations speaks for itself—one tough hombre! There is more. In this book you will go beyond the warrior's resume. You will pull the curtain back to find the warm, relational heart of a family man. Boykin gives valuable insight into five key elements of real manhood. We all need to take it to heart." — Stu Weber, pastor and author
"Man to Man is a timely book that cuts straight to the foundations of masculinity. This book is a practical guide to real masculinity and is full of personal accounts and war stories that make the author's points while keeping the reader glued to the book." — Honorable Ken Blackwell, former US Ambassador UN Human Rights Commission, former mayor of Cincinnati
"Man to Man is a refreshing and timely look at masculinity at a time when men are confused as to how the term applies in their lives. With over thirty-six years in the U.S. Army, serving in the Green Berets, Rangers, and Delta Force, LTG(R) Boykin has served with real men and this book reflects what he has learned about what real masculinity is according to God's design." — Bishop Larry Jackson, Bethel Outreach International Church
About the Author
LTG (R) William G. Boykin is founder of Kingdom Warriors ministry and Executive VP of FRC. He was a founding member and former commander of Delta Force, serving thirty-six years in the US Army. He and his wife Ashley have five children and live in Virginia.