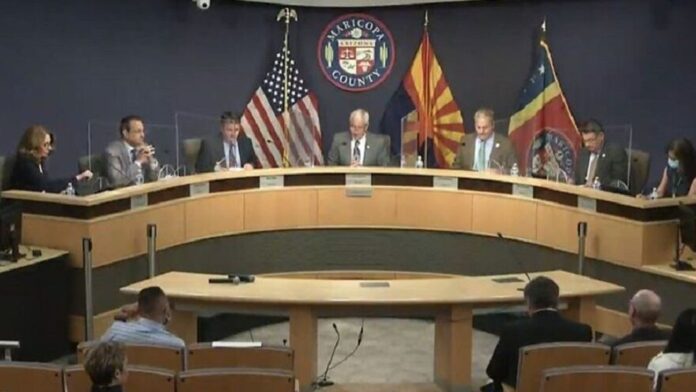 Officials in Arizona's largest county on Monday urged the state Senate to bring to an end an audit that is reviewing ballots cast and machines used in the 2020 presidential election.
"It is time to end this. For the good of the Senate, for the good of the Country and for the good of the Democratic institutions that define us as Americans," the Maricopa County Board of Supervisors and two other county officials wrote to Arizona GOP Senate President Karen Fann.
In the 14-page document, the board, which is mainly comprised of Republicans, attempted to counter accusations by auditors that the county handed over nearly 2.1 million ballots without chain-of-custody documentation and with discrepancies in some ballot batches.
Auditors had also said they found an entire database directory from an election machine had been deleted.
The board called the accusations "false, defamatory, and beneath the dignity of the Senate." Members said they had provided proper chain-of-custody documentation to the state Senate's liaison, former Republican Secretary of State Ken Bennett. They also said that each box was sealed with tamper-evident tape or "standard clear sturdy packing tape" and that the supposed batch discrepancies stemmed from a misunderstanding of how election tabulation works.
Board members challenged the claim of database deletion, asserting that no data was deleted on April 12.
In the letter, they reiterated that they could not produce passwords to access administrative functions of Dominion Voting Systems machines because Dominion does not give them such passwords. Dominion said last week it would not give auditors the passwords. Dominion did give the passwords to two firms that conducted an audit for the county earlier this year because both are accredited by the U.S. Elections Assistance Commission, the county said.
County Recorder Stephen Richer, a Republican, told members in a meeting on Monday that he witnessed the transference of all election databases to the Senate and that the Dominion passwords are not needed to run any operations, including elections.
Read Full Article on TheEpochTimes.com