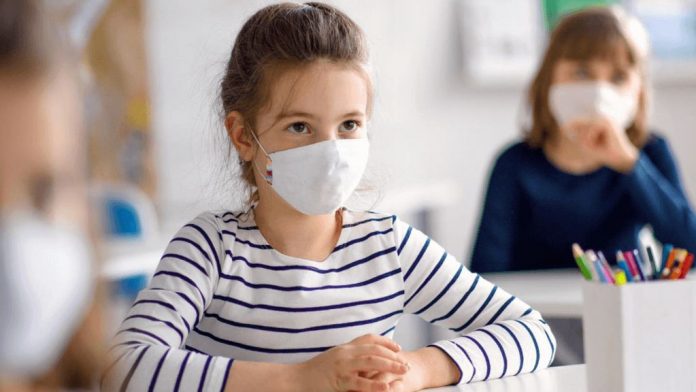 New Jersey senators held a hearing last week to explore whether the science supports forcing children to wear face masks in schools amid growing concerns regarding the efficacy and negative effects of these masks.
Scientists testified about the effectiveness of masks in preventing the spread of COVID-19, a disease caused by the CCP (Chinese Communist Party) virus. Health professionals and parents talked about the impact of masks on children's health and well-being.
The participating lawmakers asserted that wearing masks by children does little to prevent the spread of COVID-19 and may harm children psychologically, emotionally, developmentally, and physically.
The requirement to wear masks in almost all public places in New Jersey was lifted by Governor Phil Murphy in May, but the mandate to wear masks for children in schools remained in place, justified by the lack of a COVID-19 vaccine for children under 12.
Mask Effectiveness for Children
There have not been any randomized clinical trials on children to assess the benefits of wearing masks, but different countries responded differently to the pandemic, said Dr. Martin Kulldorff, professor of medicine at Harvard Medical School, and a biostatistician and epidemiologist.
"During the first wave [of the COVID-19 pandemic] in the spring of 2020, most large Western countries closed their schools for longer or shorter time periods, including more states in the U.S. The one exception was Sweden, which kept schools and daycare open from ages 1 to 15, for which there are 1.8 million children."
At that time, there was no mask-wearing, no social distancing, and no COVID-19 testing for children in Sweden, Kulldorf said at the hearing, but there was more cleaning than normal in schools and daycare facilities and children who got sick were sent home.
Despite this lack of restrictions, "none of these 1.8 million children died [of COVID-19]," Kulldorf emphasized.
"COVID is primarily spread through adults. When children do get infected … they typically get it from an adult. And it's very unusual to get transmission from children to adults."
Read Full Article on TheEpochTimes.com