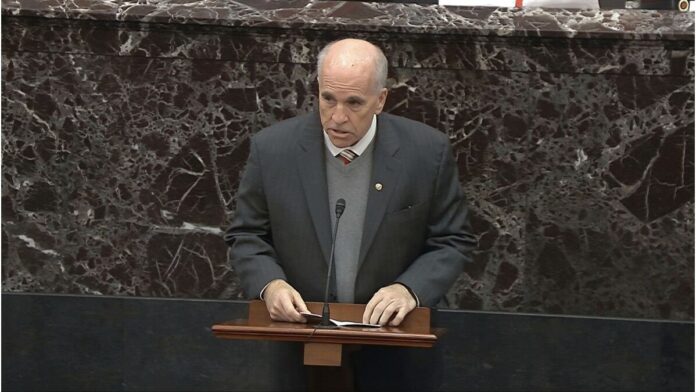 Fox confirms that Michael Stenger, the Senate Sergeant at Arms who was in charge of Senate security the day of the Capitol riot, has died. Stenger was a GOP appointee and in charge of security in the Senate wing of the Capitol on January 6 last year. Republicans still controlled the Senate the day of the riot. That's because the Georgia Senate race which settled control of the Senate was still up in the air the day of the Capitol attack. Stenger was fired shortly after the riot because of the unprecedented security failure.
Senate sergeant-at-arms resigns amid backlash over response to Capitol rioting
Stenger testified about Capitol security before a Senate panel. probing the riot in February, 2021. Stenger was the Senate's 41st Sergeant at Arms. He was previously an FBI agent and had been deputy Senate Sergeant at Arms before his appointment to the top post in 2018.
Stenger caught major flak from senators during the riot about the security failure. Sen. Lindsey Graham (R-SC) chastised Stenger in the middle of the siege, saying "We gave you guns. Use them."
From the Senate Sgt at Arms office: "It is with great sadness that we inform you that former Sergeant at Arms, Michael C. Stenger, passed away this morning.   Michael C. Stenger was the 41St Sergeant at Arms for the United States Senate, appointed in April 2018."
Sgt at Arms Office: "Mr. Stenger began working for the Senate Sergeant at Arms in 2011, serving as Assistant Sergeant at Arms for the Office of Protective Services and Continuity (now OSEPC) before his appointment as Deputy SAA in May 2014."
Sgt at Arms Office: "Mr. Stenger received his Bachelor of Arts degree from Farleigh Dickinson University in New Jersey and attained the rank of Captain in the United States Marine Corps before a distinguished career in the United States Secret Service."
Fox is told that Stenger had been suffering from cancer.
1) Fox confirms that Michael Stenger, the Senate Sergeant at Arms who was in charge of Senate security the day of the Capitol riot, has died.

— Chad Pergram (@ChadPergram) June 27, 2022
2) Stenger was a GOP appointee and in charge of security in the Senste wing of the Capitol on January 6 last year. Republicans still controlled the Senate the day of the riot.

— Chad Pergram (@ChadPergram) June 28, 2022
3) That's because the Georgia Senate race which settled control of the Senate was still up in the air the day of the Capitol attack.

Stenger was fired shortly after the riot because of the unprecedented security failure.

— Chad Pergram (@ChadPergram) June 28, 2022
4) Stenger testified about Capitol security before a Senate panel. probing the riot in February, 2021.

Stenger was the Senate's 41st Sergeant at Arms. He was previously an FBI agent and had been deputy Senate Sergeant at Arms before his appointment to the top post in 2018.

— Chad Pergram (@ChadPergram) June 28, 2022
5) Stenger caught major flak from senators during the riot about the security failure. Sen. Lindsey Graham (R-SC) chastised Stenger in the middle of the seige, saying "We gave you guns. Use them."

— Chad Pergram (@ChadPergram) June 28, 2022
6) From the Senate Sgt at Arms office: "It is with great sadness that we inform you that former Sergeant at Arms, Michael C. Stenger, passed away this morning.

Michael C. Stenger was the 41St Sergeant at Arms for the United States Senate, appointed in April 2018."

— Chad Pergram (@ChadPergram) June 28, 2022
7) Sgt at Arms Office: "Mr. Stenger began working for the Senate Sergeant at Arms in 2011, serving as Assistant Sergeant at Arms for the Office of Protective Services and Continuity (now OSEPC) before his appointment as Deputy SAA in May 2014."

— Chad Pergram (@ChadPergram) June 28, 2022
8) Sgt at Arms Office: "Mr. Stenger received his Bachelor of Arts degree from Farleigh Dickinson University in New Jersey and attained the rank of Captain in the United States Marine Corps before a distinguished career in the United States Secret Service."

— Chad Pergram (@ChadPergram) June 28, 2022
9) Fox is told that Stenger had been suffering from cancer.

— Chad Pergram (@ChadPergram) June 28, 2022