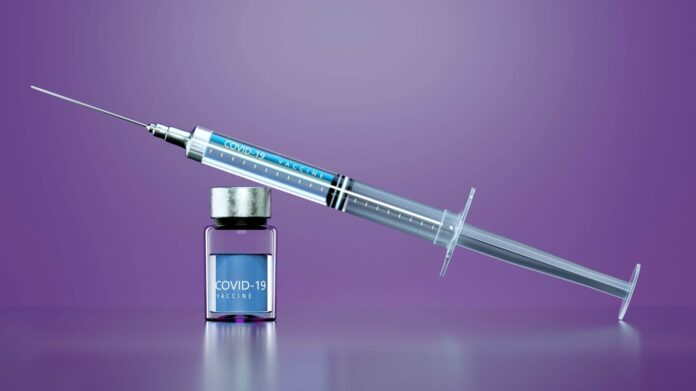 If politicians and public health authorities want someone to blame for people's reluctance to get a vaccine, they should take a long look in the mirror.
t took a Mexican comedian to do the job the American news media refuses to do.
During a series of pointed questions, Dr. Anthony Fauci admitted the COVID-19 vaccines won't stop people from contracting the virus; the shots only lessen the symptoms if a recipient is later infected with SARS-CoV-2.
"There's a 95 percent chance you will not get a symptomatic infection," Fauci told Eugenio Derbez last week. "We are unsure right now what the protection is against infection because it's conceivable you could get vaccinated, get exposed, get infected, not know it . . . but you could have virus in your nasal pharynx."
Fauci continued spinning. Since no one knows whether the vaccine prevents transmission, Fauci warned, even vaccinated people must wear a mask if "they're around people who are vulnerable to infection." It will be at least a few more months before researchers know for certain the risk level of a vaccinated person infecting someone else, Fauci said.
Derbez clearly made the deified public health expert—you can now buy a t-shirt telling the world you received your "Fauci ouchie," referring to the vaccine—squirm. Accustomed to softball interviews by swooning American journalists, Fauci was unprepared to face tough questions.
But his responses exposed the confusing, and frankly unconvincing, promotional campaign for COVID-19 vaccines. Americans generally understand vaccines to be a safeguard against getting a harmful virus, not an immunity booster to make the resultant disease more manageable. This is especially true of a highly contagious virus that can be lethal to the elderly, obese, or immuno-compromised. No one expected the vaccine merely would act as an injectable version of DayQuil or a vitamin pack but with unknown side effects.
Legitimate Questions
After a year of hyperbolic fear-mongering and warning life only could "return to normal" after widespread immunizations, the COVID chicken hawks are finally coming home to roost. Questions abound.
How will "normalcy" return when someone can still contract and transmit the virus after vaccination? What's the point of getting the shots if you, and everyone else, must still wear a mask? If mask-wearing and social distancing must continue until we have more solid answers about vaccine efficacy, why not delay the program until more is known? If getting the vaccine doesn't protect my family or neighbor, why bother? What about stories and data showing moderate to severe side effects, which in some cases are more debilitating than the disease itself?
By Julie Kelly
Read Full Article on AMGreatness.com
About Julie Kelly
Julie Kelly is a political commentator and senior contributor to American Greatness. She is the author of Disloyal Opposition: How the NeverTrump Right Tried―And Failed―To Take Down the President. Her past work can be found at The Federalist and National Review. She also has been featured in the Wall Street Journal, The Hill, Chicago Tribune, Forbes, and Genetic Literacy Project. She is the co-host of 'Happy Hour podcast with Julie and Liz.' She is a graduate of Eastern Illinois University and lives in suburban Chicago with her husband and two daughters.