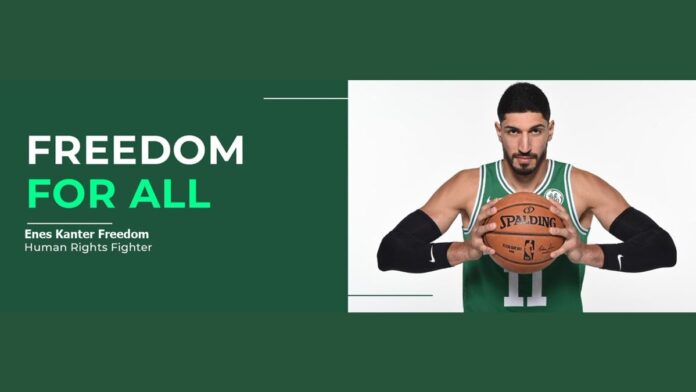 Boston Celtics center Enes Kanter Freedom said he would "love to sit down and talk" to Los Angeles Lakers superstar LeBron James and "educate" him on human rights abuses in China, something he has previously criticized James for not speaking out for.
"I'm sure it's going to be a very uncomfortable conversation for him. I don't know if he's gonna want that. I'll make that really comfortable for him," Freedom told reporters on Nov. 30, according to ESPN.
"I don't know if he's educated enough, but I'm here to educate him and I'm here to help him because it's not about money. It's about morals, principles, and values. It's about what you stand for. There are way bigger things than money," he added.
Freedom, a native of Turkey, became a U.S. citizen on Nov. 29 and legally changed his last name from Kanter to Freedom. He was banned from traveling to his home country by the administration of President Recep Tayyip Erdogan due to his political views, and Turkey revoked his passport in 2017.
In recent months, Freedom has been vocal about human rights issues in China and criticized the Chinese Communist Party's (CCP) treatment of the Uyghurs and Tibetans while also slamming Beijing for its industry-scale killing of prisoners of conscience for their organs.
The Chinese Government engages in forced organ harvesting.

Ethnic & religious groups,
Tibetans,Uyghurs in death camps, Christians,Falun Gong are all targeted

Liver
Kidney
Heart

Stop murdering for organs.
It's a crime against humanity

End forced organ harvesting in China,
NOW! pic.twitter.com/jYfepCopIb

— Enes Kanter FREEDOM (@EnesFreedom) November 16, 2021
Freedom called China's leader Xi Jinping a "brutal dictator," leading to Celtics games being pulled from Chinese media.
He has also voiced his support for Taiwan, prompting Taiwanese President Tsai Ing-wen to thank him directly via Twitter on Nov. 13.
On Nov. 19, he called out James in a tweet over his ties with Nike, slamming him for taking a "Money Over Morals" approach on Nike's alleged use of slave labor in China to produce its goods. His tweet also included photos of some sneakers emblazoned with messages targeting China, Nike, and James.
Money over Morals for the "King" 👑

Sad & disgusting how these athletes pretend they care about social justice

They really do "shut up & dribble" when Big Boss 🇨🇳 says so

Did you educate yourself about the slave labor that made your shoes or is that not part of your research? pic.twitter.com/YUA8rGYeoZ

— Enes Kanter FREEDOM (@EnesFreedom) November 18, 2021
Read Full Article on TheEpochTimes.com