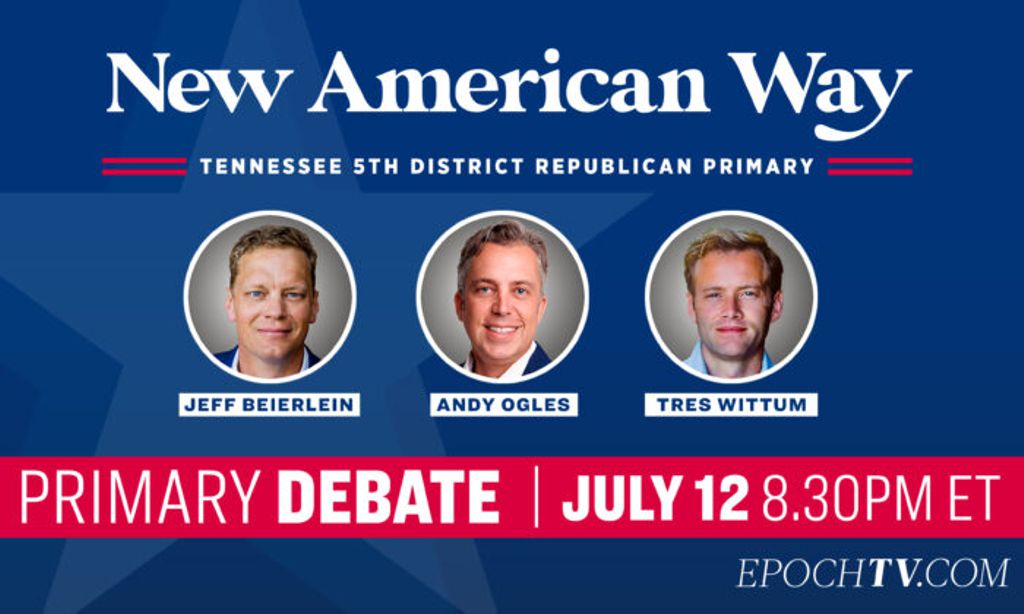 A New American Way–The Future of Political Debate
The Epoch Times, Nashville Republican Women, and Young Republicans of Middle Tennessee will present The Future of American Political Debate for the Tennessee 5th District Republican Primary on July 12 at 7:30 p.m. CT, 8:30 p.m. ET.
The debate featured top candidates vying for Tennessee's 5th district Republican U.S. Congressional seat nomination, questioned by national experts in key election issues.
The Candidates:
Jeff Beierlein
Andy Ogles
Tres Wittum
The Experts:
David Bell, on health and COVID-19 policy
Gordon Chang, on national security
Hans Von Spakowsky, on election integrity
Carol Swain, on education
Jeffrey Tucker, on the economy
Ron Vitiello, on border security and immigration
The debate was broadcast and streamed live across the country and internationally on EpochTV and NTD.
Watch Full Debate Video on EpochTV
Our country desperately needed a new kind of political debate. What we had was aexercises in (often extreme) reportorial bias that insult the intelligence of voters, while distorting and undermining the democratic process.
Who can forget the moment in the 2020 presidential debate when the supposedly even-handed moderator—Chris Wallace, then of Fox News—shut down discussion of the Hunter Biden laptop by Donald Trump?
Now that we know more of the contents of that laptop—and Wallace is, not inconsequentially, no longer with Fox News—it's easy to see the disgraceful and onerous results of such real-time censorship on the life of our country today.
And that was far from the first instance. CNN's Candy Crowley similarly intervened in favor of Barack Obama over Mitt Romney on the Benghazi issue during the presidential debate of 2012. Later, Crowley admitted Romney was "right in the main."
Those two examples favored Democrats over Republicans but, in the grand tradition of "what goes around comes around," it's highly likely that the roles will reverse at some point.
The group that was formed back in 1987—the Commission on Presidential Debates—bipartisan (in a sense) though it may be, has been an obvious failure.
And not just presidential debates engender such problems. All levels do, high and low.
Not only that, debates within the parties themselves, primary debates, have been largely uninformative sideshows, also often dominated by reportorial bias.
So what to do?
The Epoch Times, in collaboration with the Nashville Republican Women and the Middle Tennessee Young Republicans, tried an experiment, a beta test of a new approach to political debate, if you will.
They hosted a Republican primary debate in the Tennessee 5th Congressional District without reporters.
Replacing the reporters will be domain (subject matter) experts in key areas of interest to voters—health, immigration, the economy, and so forth. These experts—not journalists—asked the questions of the candidates.
Read Full Article on TheEpochTimes.com