No Safe Spaces (2019), the major feature film about free speech, censorship, and campus 'safe spaces' had its national premiere. The film opened in theaters on October 25, 2019, the same day as a California court began hearing the lawsuit Prager University v. Google.
No Safe Spaces (2019) is a documentary by radio personality Dennis Prager and comedian Adam Carolla that reveals how identity politics and the suppression of free speech are spreading into every part of society and threatening to divide America.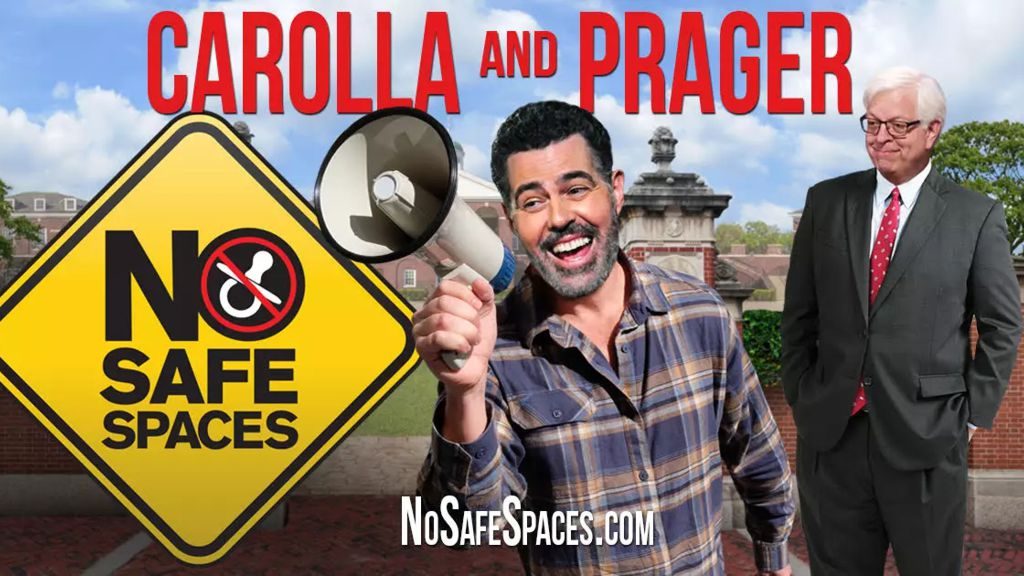 The First Amendment and the very idea of free speech are under attack in America today. A growing number of Americans don't believe you have the right to speak your mind if what you have to say might offend someone, somewhere. They advocate for "safe spaces" in which people won't be offended by ideas they may find troubling. But is that what America is about? In No Safe Spaces (2019), comedian and podcast king Adam Carolla and radio talk show host Dennis Prager travel the country, talking to experts on the right and left, tour college campuses and examine their own upbringings to try to understand what is happening in America today and what free speech in America should look like.
No Safe Spaces (2019) will begin showing on October 25, 2019. Although it has been given a PG-13 rating, it is recommend that every one, including those only see only PG movies, see this documentary. Group Tickets Available Soon
No Safe Spaces (2019) film features commentary from a variety of Hollywood actors, scholars, academics, political figures, and media members, including Van Jones, Alan Dershowitz, Jordan Peterson, Dave Rubin, Cornel West, and Tim Allen.