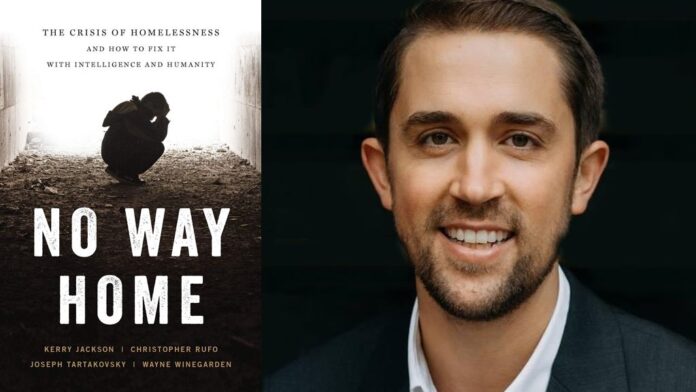 In San Diego, not far from the gates of the fantasy world of Disneyland, tent cities lining the freeways remind us of an ugly reality. Homeless individuals are slowing rail traffic between Sacramento and the Bay Area and swarming subway trains in Los Angeles in search of a place to sleep when they're not languishing on Skid Row. Drug use among the homeless is plaguing communities, with discarded needles threatening children playing at public parks. And every day across California, thousands of homeless youth who lack safe and stable housing struggle to stay in school, to perform well academically, and to form meaningful connections with their teachers and peers.
Since the 1980s, countless research studies have been published on the topic of homelessness in America. Too often, however, social science research on homelessness is narrow in scope, mired in politics, and reliant on questionable assumptions about the root causes of the problem. The severity of the homeless crises afflicting cities requires innovative solutions backed by credible data and objective research.
No Way Home examines the causes of homelessness with a focus on unaffordable housing, poverty, mental illness, substance addiction, and legal reform. It examines the state and local policy environment to determine ways in which housing policy, social service programs, and employment opportunities interact to exacerbate, perpetuate, or reduce homelessness. The book also evaluates different strategies being used at the state, county, and local levels to prevent or reduce homelessness. Finally, the authors provide a mix of long-term policy solutions based on their findings that have the greatest potential to reduce homelessness.
Editorial Reviews
Review
"The homeless crisis calls for a comprehensive effort that attacks the problem on all fronts: substance addiction and mental illness, housing affordability, and legal reform. The Pacific Research Institute's team of experts addresses these issues and offers practical and humane reforms. An important book for those who want to understand and address homelessness in California and the nation."―Jim Palmer, President, Orange County Rescue Mission
"Homelessness is one of the most vexing problems that California and the nation face today. There are no simple solutions, but we can embrace effective and humane policies that mitigate the problem, help those living on the streets, and protect the public and the public purse. It starts with recognizing that homelessness is not merely about housing – it touches on myriad social problems including addiction and mental health. This book does yeoman's work putting this crisis into perspective and charting a more productive path forward."―Steven Greenhut, Western region director for the R Street Institute and a columnist for the Southern California News Group
"Over 150,000 people are homeless in California. Homelessness in California is now a 50-year-old problem, the fault of the state's political leaders who have wasted enormous resources trying to paper over the problem, efforts that are politically expedient and are ultimately perpetuating homelessness. No Way Home is a beautiful new book that highlights the untold tragedies that the homeless face and offers clear and compelling regulatory and legal solutions. If you read one book about California homelessness, this is it. Incredibly detailed, thought-provoking, and forceful – after reading No Way Home you will be so angry with politicians that you will demand substantial and immediate change to end this senseless human tragedy."―Lee Ohanian, Professor of Economics, UCLA, and Senior Fellow, Hoover Institution
"Homelessness has become the social issue of the twenty-first century, especially in California. No Way Home addresses the problem in painfully clear terms. Prepare to be infuriated, then motivated. The authors meticulously outline the role elected officials have played in creating the ever deepening disaster. Readers will soon understand the astonishing waste and callousness of the current system and the reasons more people than ever are living – and dying – on the streets. No Way Home provides the fascinating backstory of why communities in grand cities like San Francisco have descended into growing slums. Is all lost? No. No Way Home gives real hope, offering a strategy that can turn the crisis around with creative, rational, and feasible solutions."―Erica Sandberg, author and columnist
About the Authors
Wayne Winegarden, Ph.D., is a Sr. Fellow in Business & Economics, Pacific Research Institute, as well as the Director of PRI's Center for Medical Economics and Innovation. Dr. Winegarden's columns have been published in the Wall Street Journal, Chicago Tribune, Investor's Business Daily, Forbes.com, and USA Today. He was previously on the economics faculty at Marymount University, has testified before the U.S. Congress, has been interviewed and quoted in such media as CNN and Bloomberg Radio, and is asked to present his research findings at policy conferences and meetings. Dr. Winegarden is also the Principal of an economic advisory firm that advises clients on the economic, business, and investment implications from changes in broader macroeconomic trends and government policies. Clients have included Fortune 500 companies, financial organizations, small businesses, and trade associations. Previously, Dr. Winegarden worked as a business economist in Hong Kong and New York City, and as a policy economist for policy and trade associations in Washington D.C. Dr. Winegarden received his B.A., M.A., and Ph.D. in Economics from George Mason University.
Joseph Tartakovsky is the former Deputy Solicitor General of Nevada, an attorney specializing in constitutional and appellate law in California, and the author of The Lives of the Constitution: Ten Exceptional Minds that Shaped America's Supreme Law. He is also a Pacific Research Institute Fellow in Legal Studies. His writing has appeared in the New York Times, Wall Street Journal, and Los Angeles Times, among other publications.
Kerry Jackson is an independent journalist and opinion writer with extensive experience covering politics and public policy. Currently a fellow with the Center for California Reform at the Pacific Research Institute (PRI), he writes weekly op-eds and blog posts on statewide issues, and occasional books and policy papers. Jackson is a leading commentator on California's growing homeless crisis. In 2019, he co-authored with Dr. Wayne Winegarden a brief on San Francisco's homeless crisis, which was presented to Mayor London Breed's administration.
Christopher F. Rufo is an Adjunct Fellow at Pacific Research Institute (PRI). He is a filmmaker, writer, and policy researcher. He has directed four films for PBS, Netflix, and international television, including his latest film, America Lost, that tells the story of three "forgotten American cities." He is the director of the Discovery Institute's Center on Wealth & Poverty, and a contributing editor at City Journal, where he covers poverty, homelessness, addiction, crime, and other afflictions. Rufo graduated magna cum laude from Georgetown University, was a Claremont Institute Lincoln fellow, and has appeared on NPR, CNN, ABC, CBS, HLN, and FOX News.