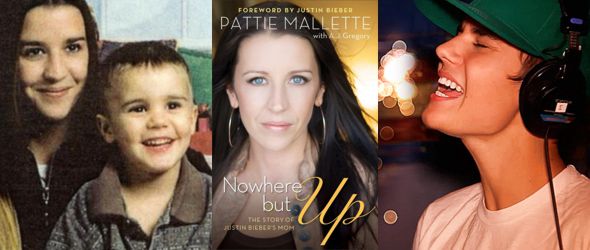 Pattie Mallette, Justin Bieber's mom, faced years of hardships, including sex abuse and drug use, before giving birth to the pop superstar when she was only 18. She tells TODAY's Kathie Lee Gifford she faced years of shame before overcoming some of life's biggest obstacles.
2009 Interview with Pattie Mallette
Nowhere But Up: The Story of Justin Bieber's Mom ~ Most people only know her as Justin Bieber's mom, but Pattie Mallette has had an incredible journey of her own. Many people have heard of her son's rags to riches triumph. A few know she was a teen mom who had to overcome a drug and alcohol addiction. Even fewer know the rest of her story.
Now, for the first time in detail, Pattie shares with the world the story of a girl who felt abandoned and unloved. Of a teenager who made poor choices. Of a young woman who attempted suicide and could hardly bear to believe that God would ever care for her. One who messed up, got pregnant, and got a second chance. Every reader will find themselves somewhere in Pattie's painful journey of redemption. They will be encouraged by her example that what was once broken can become whole.
Pattie's story will inspire readers to believe that even in the darkest of places, there's always hope. For those who feel unlovable, there's always love. And for those who believe they're a lost cause, there's always room for another chance.
Book Details
Hardcover: 220 pages
Publisher: Revell (September 18, 2012)
Language: English
ISBN-10: 0800721896
ISBN-13: 978-0800721893
Product Dimensions: 9.1 x 6.2 x 0.9 inches
Shipping Weight: 1.1 pounds (View shipping rates and policies)
Author's Biography
A.J. Gregory writes about real life. She is the author of two books, Messy Faith and Silent Savior, which chronicles finding faith in the middle of unavoidable and sometimes harsh realities. She also partners with amazing people–celebrities, military leaders, life coaches, pastors, physicians, professors–to help write their own stories. An accomplished ghostwriter, A.J. has collaborated with fascinating high-profile figures on nearly twenty books including Nowhere but Up with Pattie Mallette, Justin Bieber's mom.
Born and raised in the Garden State, A.J. is a true Jersey girl who, stereotypically, dons hair that always has just a little bit of pouf. When she was twenty-three, she packed her bags, and said goodbye to her friends, family, and a job as an event planner for Accenture. Goodbye Jersey, hello Nashville. With stars in her eyes and a dream in her heart, A.J. drove fourteen hours in a sputtering jalopy to plant herself on the soil of the Music City. To, of course, become a star…or something like that. Life didn't quite turn out the way she had expected.