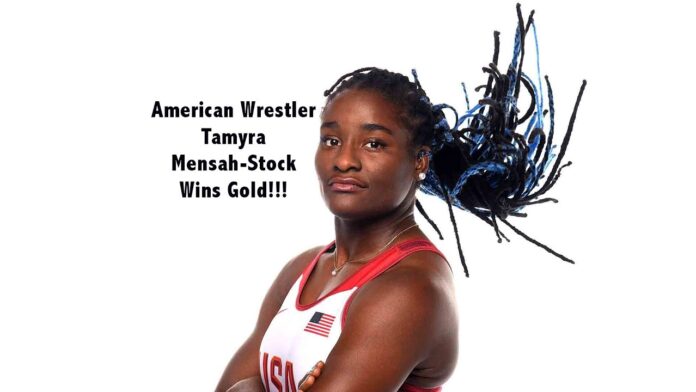 Now that the Tokyo 2020 Olympic Games have concluded, it would be easy for the casual viewer to think that American patriotism and love of country is at an all time low.
Throughout the games, the woke liberal media continuously highlighted American athletes who refused to hold American flags, snubbed the National Anthem, and denigrated the country they were sent to represent. But despite who the anti-American media chose to cover, there were many proud athletes who were thrilled to go to Tokyo and represent our country and our people on the world stage.
When Naomi Graham stepped into the boxing ring in Tokyo, she was representing both her country and the U.S. Army. She's the first female U.S. active-duty service member to compete as an Olympian. Graham, who was raised in North Carolina, joined the military as a young woman to take control of and improve her life. Before then, she was homeless. Graham said joining the American military was "the best decision she ever made." And the message she had for young people was patriotic, clear, and quintessentially American: "You can be anything you want to be. You can come from nothing and be an Olympian."
Tamyra Mensah-Stock, who is from Texas and is the daughter of a Ghanian immigrant, became the first black American woman to win a gold medal in wrestling. In the news conference which followed her win, Mensah-Stock made it perfectly clear how she felt representing the United States on the mat: "It feels amazing!" With tears in her eyes and proudly wrapped in the American flag, she said, "I love representing the U.S. I freaking love living there. I love it, and I'm so happy I get to represent U.S.A!"
Eddy Alvarez led the U.S.A. baseball team and carried the American flag for Team U.S.A. during the opening ceremonies. His parents were Cuban immigrants who fled a communist dictatorship and came to the United States to seek a better life for themselves and their family. Alvarez told reporters before the ceremonies: "I'm a prime example of what the American dream is. To get this opportunity to lead Team U.S.A. is unbelievable. Really is, just a symbol of the opportunity that my family came to this country in search of …. to be able to lead Team U.S.A. is an absolute honor." In a later Tweet, he wrote: "Thank you to everyone that honored me with this privilege! I will wave our colors proudly #GoTeamUSA."
Yeisser Ramírez is also a Cuban American Olympian. He reportedly learned fencing barefoot in Guantánamo, Cuba, because his family had no money for shoes—much less proper fencing equipment. He was able to come to America and compete because he won a U.S. visa lottery. Before he came to Tokyo, he told USA Fencing.com "I never thought I would come to this country. Never, ever, ever… I wouldn't change my story for anything."
Finally, Patrick Reed represented America on the golf course. He said his brother-in-law's military service in Afghanistan inspired him as he played for the United States. As he told the Golf Channel, "soldiers are dying for us so we're able to sleep at night and feel safe and do what we do. And so, for me to represent my country, anytime I can wear the red, white, and blue and support our troops and our country, I'm gonna do it."
These are just a few of the Olympians who proudly represented America in Tokyo. They all had different backgrounds, challenges, inspiring stories, and reasons for being there—and they all represented America.
Instead of focusing on these athletes who were proud, patriotic, and grateful for the opportunity to compete for our country, the woke media devoted hours of coverage and precious primetime to the few American athletes who specifically did not go to represent America.
To the rest of the world, I'm sure this seemed totally confusing.
But Americans understand that the reason is simple: The woke liberal media doesn't represent us either.
From Gingrich360.com.
By Newt Gingrich