"Pandemics are like terrorist attacks: We know roughly where they originate and what's responsible for them, but we don't know exactly when the next one will happen. They need to be handled the same way — by identifying all possible sources and dismantling those before the next pandemic strikes."
This statement was written in the New York Times earlier this year by Peter Daszak. Daszak is the longtime president of the EcoHealth Alliance, a New York-based non-profit whose claimed focus is pandemic prevention. But the EcoHealth Alliance, it turns out, is at the very centre of the COVID-19 pandemic in many ways.
To depict the pandemic in such militarized terms is, for Daszak, a commonplace. In an Oct. 7 online talk organized by Columbia University's School of International and Public Affairs, Daszak presented a slide titled "Donald Rumsfeld's Prescient Speech.":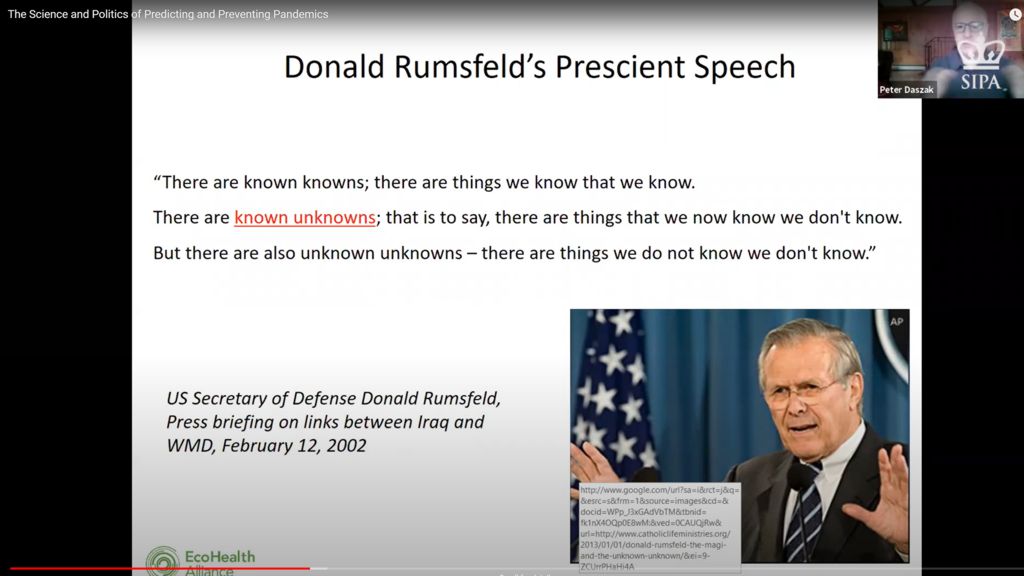 "There are known knowns; there are things we know that we know. There are known unknowns; that is to say, there are things that we know we don't know. But there are also unknown unknowns — there are things we don't know we don't know." (This Rumsfeld quote is in fact from a news conference)
In the subsequent online discussion, Daszak emphasized the parallels between his own crusade and Rumsfeld's, since, according to Daszak, the "potential for unknown attacks" is "the same for viruses".
Daszak then proceeded with a not terribly subtle pitch for over a billion dollars. This money would support a fledgling virus hunting and surveillance project of his, the Global Virome Project — a "doable project" he assured watchers — given the cost of the pandemic to governments and various industries.
Also on the video was Columbia University professor Jeffrey Sachs. Sachs is a former special advisor to the UN, the former head of the Millennium Villages Project, and was recently appointed Chair of the newly-formed EAT Lancet Commission on the pandemic. In September, Sachs' commission named Daszak to head up its committee on the pandemic's origins. Daszak is also on the WHO's committee to investigate the pandemic's origin. He is the only individual on both committees.
These leadership positions are not the only reason why Peter Daszak is such a central figure in the COVID-19 pandemic, however. His appointment dismayed many of those who are aware that Daszak's EcoHealth Alliance funded bat coronavirus research, including virus collection, at the Wuhan Institute for Virology (WIV) and thus could themselves be directly implicated in the outbreak.
For his part, Daszak has repeatedly dismissed the notion that the pandemic could have a lab origin. In fact, a recent FOIA by the transparency group U.S. Right To Know revealed that Peter Daszak drafted an influential multi-author letter published on February 18 in the Lancet. That letter dismissed lab origin hypothesese as "conspiracy theory." Daszak was revealed to have orchestrated the letter such as to "avoid the appearance of a political statement."
Sachs for his part seemed surprised by Daszak's depiction of Rumsfeld but Daszak reassured him. "It's an awesome quote! And yes, it's Donald Rumsfeld, Jeff, and I know he's a Republican, but — what a genius!"
by Sam Husseini
Read Full Article on IndependentScienceNews.org