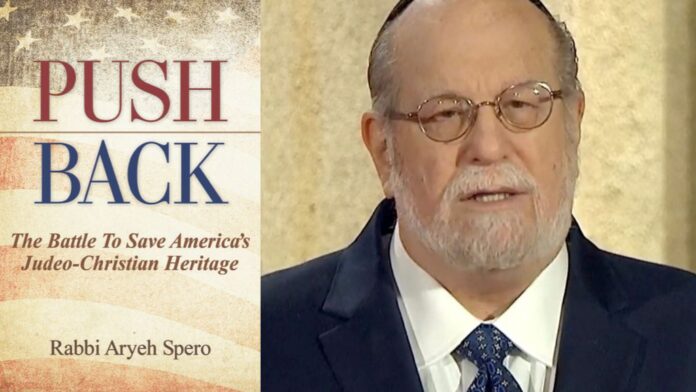 Had enough of the liberal Left? It's time to take a stand, speak out, Push Back America!
Millions of Americans are alarmed over our current cultural and political climate but afraid to speak out. They feel bullied into accepting a cultural and political outlook sharply different from what they believe. Demagogues on the Left aggressively push their ideology, making untold numbers of Americans question the historic promise and direction of their country. We need to push back against this tide of liberalism as we head toward a national election!
In the new book, Push Back, Reclaiming the American Judeo-Christian Spirit, Rabbi Aryeh Spero challenges the Left's subversive hijacking of terms such as compassion, tolerance, love, fairness, and social justice, which they distort to usher in socialism and empower a liberal ruling clique to the detriment of America's middle class. In heartfelt fashion, Spero confronts his ministry colleagues who promote what he calls "religious correctness," exposing the misuse of Scripture on behalf of leftwing political correctness.
Rabbi Aryea Spero urges us to stand up and proudly proclaim the beliefs that have made America strong, free, and prosperous. He girds the reader with the strength, clarity, and fortitude to go out into the public square and fight for America's future. He boldly declares, "Now is the time. Let's Roll!"
Buy This Book on Caucus For America Website
What people are saying about Push Back:
"Rabbi Spero is one of America's foremost authorities on the nexus of faith and freedom. Through an historic analysis of the founding of this nation and the intent of the forebearers, he offers a very thoughtful blueprint for the recovery of American pride and American exceptionalism. This book will give the reader hope for the future of our nation." ~ Lieutenant General William G. Boykin, U.S. Army (Retired)
"Rabbi Aryeh Spero is a rare man of principle and courage who gets it! He understands that what has made this country the freest and most prosperous nation in history is the foundation that was laid by people who were empowered by their faith, rooted in the Word of God." ~ Dr. Rick Scarborough, Founder and President, Vision America
About the Author
Rabbi Aryeh Spero's articles have appeared in The Wall Street Journal, The Washington Times, National Review, Human Events, and numerous publications across the country. He has been interviewed on Fox News by Neil Cavuto, Megyn Kelly, and Stuart Varney, on Glenn Beck's TV program, and on radio by Laura Ingraham, Michael Savage, and is regularly featured on The Washington Times Morning Show. Rabbi Spero has testified before Congress and spoken at a meeting of the National Press Club. He has served congregations in Ohio, Manhattan, and Long Island. He's a devoted husband and father.
Buy This Book on Caucus For America Website