Man also says he witnessed Epps directing group that removed 2-by-4 lumber and a long cardboard tube from utility hatch at U.S. Capitol
Ray Epps, the former Arizona Oath Keepers leader who was famously captured on camera a day before the Jan. 6, 2021, protests urging protesters to go into the U.S. Capitol, allegedly directed a group of individuals who removed "siege weapons" including a long piece of 2-by-4 lumber, from a utility hatch on Capitol grounds after telling a witness they needed to slow down the crowd lest it "[expletive] up the plan," a Kentucky man claims.
Eric Clark, 45, says he encountered Epps on the west side of the Capitol on Jan. 6, 2021, but did not realize who he was until seeing news reports about Epps earlier this year. Behavior and statements Clark said he witnessed took on new meaning after he read news reports about Epps's possible role as a provocateur at the Capitol.
"I didn't know who Ray Epps was," Clark told The Epoch Times. "I just knew a tall mountain of a man who said something to me, and I saw some things occur.
"It was almost literally, probably right at a year later, when I saw a [news] post with Ray Epps in it, and I was able to put a name to a face," Clark said.
Through his attorney, Epps denied Clark's story.
Epps has long denied being an informant for the FBI or other law enforcement on Jan. 6. His photo—assigned No. 16—was initially placed on the FBI's January 6 most-wanted website, but later removed without explanation. Epps has not been arrested or charged with crimes for being at the Capitol.
Clark had been at the Ellipse to hear President Donald Trump speak earlier that day. Due to the massive crowds, Clark stood about 50 yards away and watched the speech on a jumbo video monitor. He left before the speech ended and walked to the Capitol.
Epps, Clark Seen on Video
While Epps denied saying the crowd would "[expletive] up the plan," The Epoch Times located a video shot by Quincy Franklin—known online as the Black Conservative Preacher—that captured Clark and Epps standing next to each other off and on during a five-minute period that afternoon in the location Clark described. Clark was wearing a Guy Fawkes mask.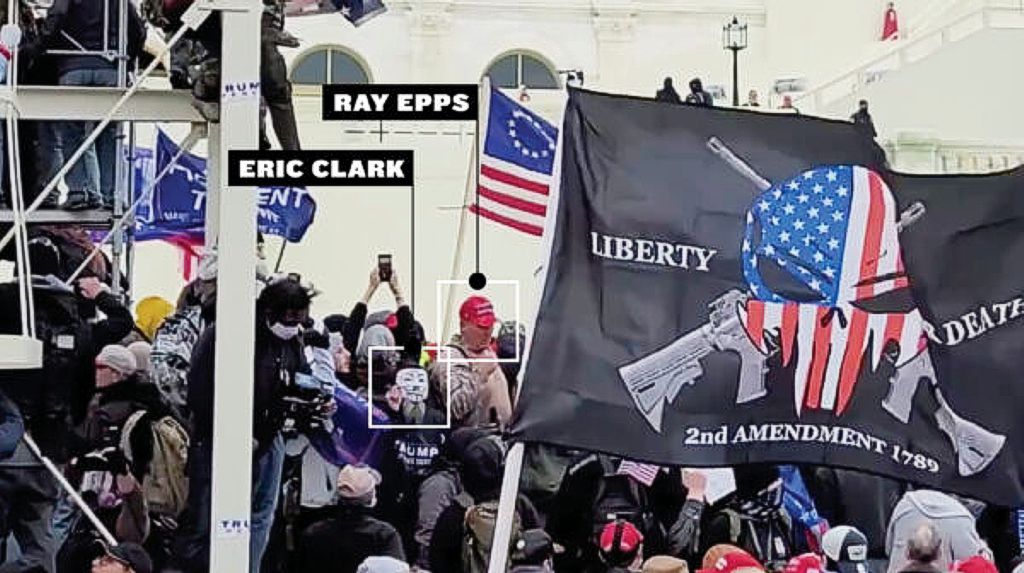 At the 2:31 mark on a video titled "The Storm Arrived Part 3," a protester sprays a fire extinguisher into the air, prompting Epps to move away from the police line down the steps. Clark was right behind Epps, who moved to his right as Clark kept running straight down the steps. Clark ended up about 25 feet from Epps.
Read Full Article on TheEpochTimes.com