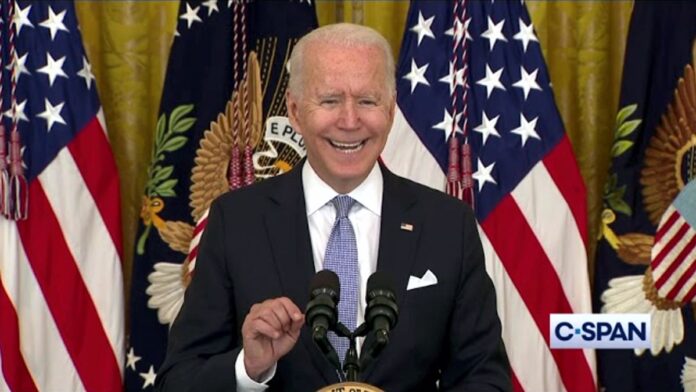 Several Republican attorneys general have said that President Joe Biden's federal mandate for COVID-19 vaccinations hasn't yet come into effect for private businesses, adding that if it is ordered, they will file lawsuits against it.
Montana Attorney General Austin Knudsen, a Republican, noted that the White House only last week submitted the text of its emergency rule regarding vaccinations to the Office of Management and Budget, meaning it hasn't gone into effect.
But, Knudsen noted that "no such rule or regulation is currently in effect," adding (pdf) that there has been a "great deal of confusion" over Biden's announcement last month.
"Further, my office is preparing to immediately challenge and enjoin this federal overreach on a variety of grounds when the Biden administration issues its announced rule," he said.
On Sept. 9, Biden announced that he would direct the Occupational Safety and Health Administration (OSHA) to mandate that all private businesses with 100 or more employees force their workers to get vaccinated or submit to weekly testing. Details about the rule, including fines, have not been released, and White House press secretary Jen Psaki couldn't answer questions earlier this month about a timeframe on when it would be unveiled.
Oklahoma Attorney General John O'Connor, also a Republican, announced Thursday that there is no federal rule mandating employers to require their workers to get the shots. As a result, he noted that Biden's announcement should be ignored by employers until a rule is implemented.
"I urge Oklahoma employers to disregard the Biden Administration's wishes to the contrary," O'Connor said in a statement. "In the event federal emergency rules are issued that place such an unlawful demand upon employers, our office will be joined by other state Attorneys General across the country to quickly sue and seek an injunction against any implementation or enforcement."
O'Connor said that Oklahoma residents have the right to make their own health decisions, including on whether to get vaccinated or not.
"Employers that are mandating vaccines are unfortunately doing so upon their own initiative. Religious, medical, and personal exemptions should be uniformly approved by those employers at the very least," he added in the statement.