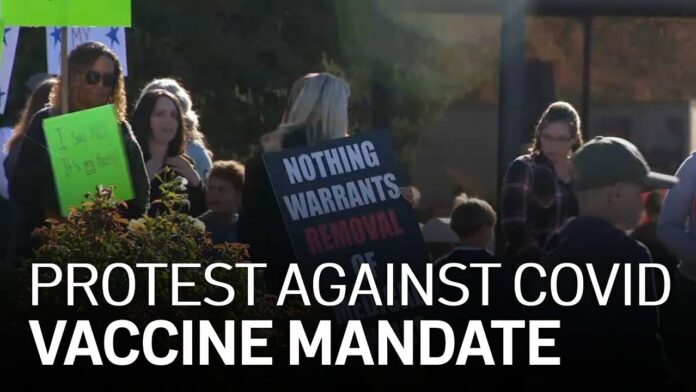 Authorities in one of the largest cities in California are planning to soon mandate COVID-19 vaccination for children as young as 5.
Health orders for San Francisco imposed in August require proof of COVID-19 vaccination to enter restaurants, gyms, and other establishments.
The orders only apply to people 12 and older. But with the emergency use authorization (EUA) of Pfizer's jab for those between 5 and 11, they will be extended after a "limited time," Dr. Susan Philip, health officer for the city and county of San Francisco, told a town hall on Nov. 2.
"We definitely want to wait and make sure that children have an opportunity to get vaccinated, so that will happen no sooner than about eight weeks after the vaccine is available to kids," Philip said.
"So there will be a limited time in which there will not be those requirements, is our plan, but at some point, 5- to 11-year-olds will also have to show proof of vaccination to access those same settings," she added.
California's governor last month announced a COVID-19 vaccine mandate for school children. But that mandate doesn't come into effect for children unless a jab has received approval for their age group.
The San Francisco orders force people to produce proof of vaccination, with no opt-outs, to attend indoor events with over 1,000 guests and to enter any restaurant, gym, and bar.
The city was the first in the United States to require such vaccine verification and is now poised to potentially become the first to impose requirements on young children, even though experts have voiced concern about mandating vaccination for the age group.
"I think that would be an error at this time, until we get more information about the safety," Dr. Cody Meissner, chief of the Division of Pediatric Infectious Disease at Tufts University School of Medicine, said during a meeting last week.
Safety data was only available from about 3,500 participants in a trial examining Pfizer's shot in kids ages 5 to 11. But most of the data came from approximately half that group, and from only three months post-vaccination. The other chunk was only followed for two weeks.
Read Full Article on TheEpochTimes.com