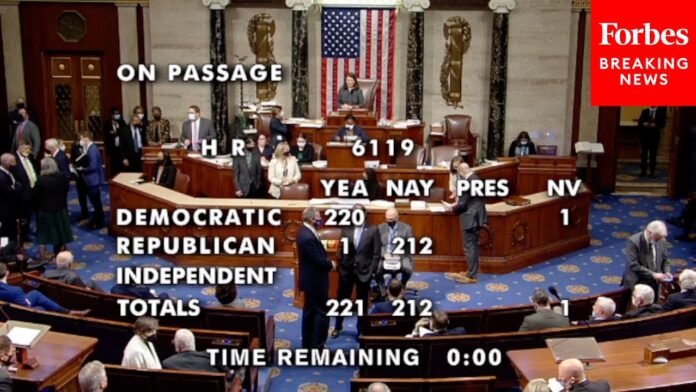 Measure to keep government funded through Feb. 18
The U.S. Senate voted to pass an emergency legislation late Thursday to avoid a short-term government shutdown and would keep the government funded through mid-February ahead of a deadline at midnight, sending the bill to President Joe Biden, who is likely to sign it.
The vote of 69–28 to pass the stopgap funding bill will ensure that government agencies be funded until Feb. 18.
The measure was needed to allow almost 12 more weeks for Congress to debate and pass the 12 annual appropriations bills totaling around $1.5 trillion to fund "discretionary" federal programs for the fiscal year that began on Oct. 1. Congressional leaders also agreed to add a $7 billion provision to aid Afghanistan evacuees to the temporary spending bill.
The legislation's passage through the Senate comes after a vote in the House of 221–212, with Rep. Adam Kinzinger (R-Ill.) being the only Republican to join Democrats in supporting it.
Before voting on the stopgap measure, senators first voted on an amendment from Republicans to prohibit federal dollars to be spent on Biden's vaccine mandate for workers under large companies.
Democrats had agreed with Republicans on a deal to allow the vote on the amendment at a simple-majority threshold, after more than a dozen Republicans had threatened to block the stopgap bill if they did not get enough votes for the amendment. The amendment vote failed at 48–50.
"I am glad that in the end, cooler heads prevailed. The government will stay open and I thank the members of this chamber for walking us back from the brink from an avoidable, needless and costly shutdown," Senate Majority Leader Chuck Schumer (D-N.Y.) said upon striking a deal with Republicans to pass the bill.
Lawmakers now turn their attention to a deal to raise the debt ceiling in the next few weeks, after the Treasury Department previously estimated the federal government could approach its $28.9 trillion borrowing limit by Dec. 15. Failing to extend or lift the limit could potentially trigger a government default.
Meanwhile, Democrats continue to push their $1.75 trillion budget bill, also known as the Build Back Better bill.
Read Full Article on TheEpochTimes.com