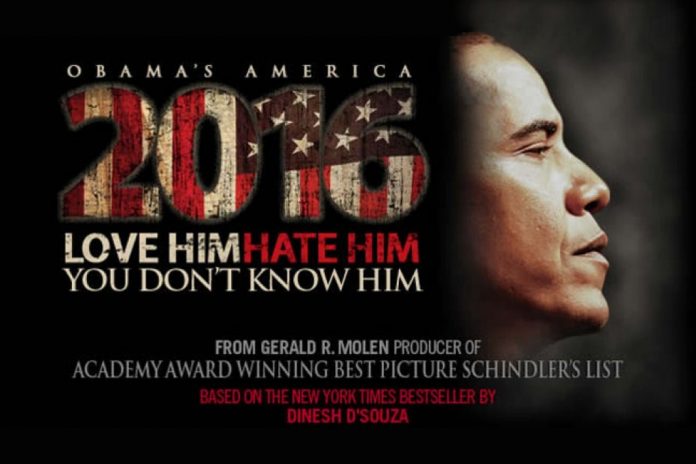 The documentary 2016: Obama's America, paints a bleak picture of the world should President Obama be re-elected. the film has been in theaters for a couple of months now, but Yahoo! Movies, one of the biggest online movie listings sites, does not list ithe film's theaters or showtimes
It's easy to find out when and where you can watch "Expendables 2" and "Sparkle" and independent films like "Sleepwalk With Me," but there are no listings for Dinesh D'Souza-2016: Obama's America. In fact, Yahoo! Movies doesn't appear to have the documentary listed in its database at all.
"I was interested in seeing the new movie, 2016: Obama's America so I went to Yahoo! Movies as I usually do to find the time and showing. I found that you cannot search for it on Yahoo! Movies," one disgruntled moviegoer told FOX411's Pop Tarts column. "I checked the movie's site and found out where it was opening on August 24th and so I checked those theaters for that date and it does not show up. Is it possible that Yahoo! is trying to keep people from watching this movie?"
Yahoo! says no way. "Yahoo! only displays movies that we have received information about from distributors or representatives of films," a company rep told FOX411.
2016: Obama's America distributors have not yet commented on whether or not they sent information to Yahoo!, but a source close to the film points out that if you search Yahoo! Movies for a smaller movie opening in a small number of theaters that may not be in Yahoo!'s film database, like the new movie "Compliance," which opened last weekend in a single theater, Yahoo! Movies defaults to a web search for that title, which yields multiple results. The same search for 2016: Obama's America yields no search results, even though it has been widely discussed and covered online.
2016: Obama's America, now showing in 169 theaters, does show up on showtime searches through Google and Moviefone. The documentary came in 13th at the box office over the weekend, with a per-screen average of $7,391, the fifth highest average of any film over the weekend.
"When somebody goes to Yahoo!'s movie site and types in a film's name, typically hundreds of web search results come up yet when one searches for "2016: Obama's America" not one search result is returned," said "2016" executive producer John Sullivan. "The website for '2016: Obama's America' is generating nearly a million page views per day so it's not as though the information traffic is not out there. We look forward to Yahoo! updating its search capability so that viewers can easily find out information about ours and other popular movies."
The director and producer of 2016: Obama's America think they smell a rat.
"It is particularly disturbing to see efforts to block this information from reaching the eyes and ears of the American people," D'Souza said. "It's really important to thwart this effort at censorship and regulating the free flow of information in this country. It is part of the American character to question and reject authority when it threatens freedom. I hope every American will reject this sad attempt and watch the movie for themselves and come to their own conclusions."
It is peculated that several newspapers and online publications have omitted theater locations and times for the film. According to ChristianPost.com, the film's marketing company reported that someone in the Orange County area of Southern California complained in an e-mail that they saw no listings for the film in local papers despite the fact it was playing at numerous theaters. The marketing company also told us that they had just heard from a South Jersey-based reporter trying to find a listing, yet found it "awfully funny" that they couldn't find the necessary details.
2016: Obama's America producer Gerald Molen said the situation was "disturbing and revealing."
"Disturbing because the film has exploded on the American scene and every American with the desire should be afforded the opportunity to see it. Yet forces are seemingly at work trying to stop it. Revealing because it demonstrates how far some will go to stop the flow of information they feel might be against their agenda, be it political or ideological," he said.
The film's reps said 2016: Obama's America can be seen on 1,000 screens this weekend.
By Hollie McKay
Read Full Article on FoxNews.com