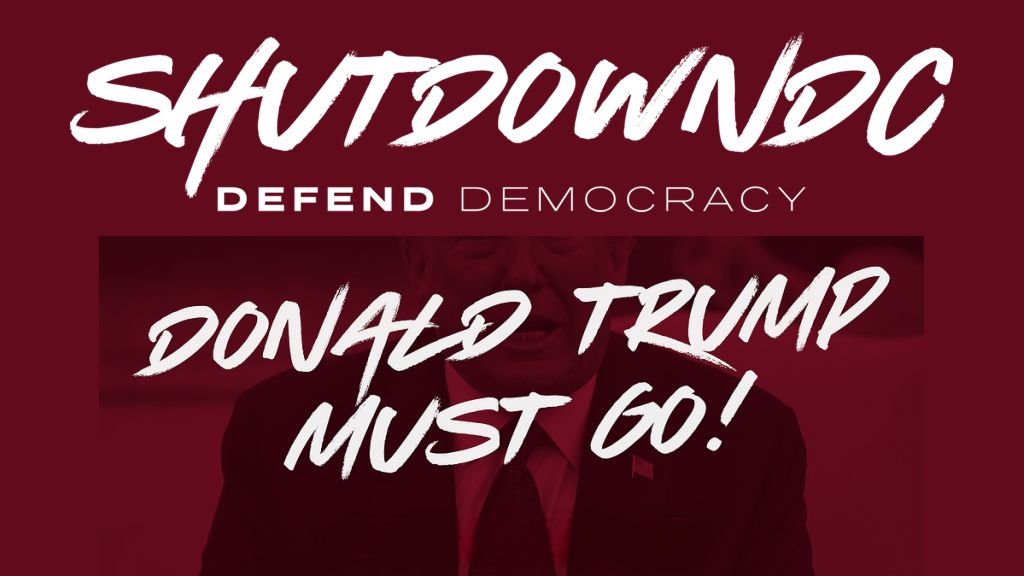 Federal Employees Attend A "Shut Down DC" Zoom Chat on Tactics For Sabotaging Government Bureaucracy.
In the video above ShutDown DC hosts a Zoom Chat training session for federal employees on using their official job as an activist to leak and to slow down the government to aid outside actions.
"We all, as ordinary people and as federal employees have power. If masses of people engage in non-cooperation, no ruler can stay in power. Bureaucracy is a really powerful pillar. And, you know, federal workers have unparalleled familiarity with bureaucratic process, they know how to speed things up. They know how to slow them down. They have access to critical information about policies that are being considered and implemented. They can participate in internal decision making. They can provide or deny knowledge and expertise that those at the top of the bureaucratic totem pole need. It ultimately comes down to individual decisions and personal choice. Deciding what to do or what not to do is a very personal decision. It's based on context, it's based on your rank, on your tolerance for risk, on your preparation, and frankly where you sit in the federal, a federal bureaucracy. We're talking about the range of different tactics. We talk about acts of commission and acts of omission. And another act of commission, I'll be it highly risky, and there are a number of great downsides, is leaking. So leaking information about pending or actual policies with journalist, with activist, influential people on the outside. So, another act of omission is creating parallel structures or self organizing units so organizing in the office place in the workplace."
About ShutDown DC
ShutDownDC uses strategic direct action to advance justice and hold officials accountable. We're a growing movement and we're getting ready for an uprising.
Training
Civil resistance means knowing how to confront power and how to protect each other. Find a training to prepare for action.
Sharing Skills
We protect us and that means sharing skills and know-how with one another. If you have something to contribute let us know what you can share and how you can share it.
Organizing
We host regular meetings where working groups report back, exchange info, and plan ahead for future actions.
Organizing Principles
#ShutDownDC came together during the summer of 2019 to respond to the Youth Climate Strikers' Call to Action. It is an organizing space where individuals and groups can come together to organize direct action.
As the 2020 election approaches we are making plans to rise up to confront the Trump administration's attacks on democracy.
We recognize the urgency of this moment.
Our collective future is at stake and we are committed to taking bold direct action, to facing our fears, and to pushing ourselves and each other to make transformative change in this moment.
We are committed to working together to create the world that we want to live in.
We do not want to reproduce the same violences we are committed to dismantling; thus, we are committed to anti-oppressive principles, transformative justice, and sustainable organizing.
We recognize that many of the challenges that we are facing did not start when Trump was elected president and they will not end when he is forced from office.
We are not seeking a 'return to normalcy,' because we know that returning to 'normal' means returning to a system that was built on oppression. Rather, we see this as the time to rise up against the current crisis and move forward to dismantle the interlocking systems of oppression that have plagued this land for centuries.
The Trump administration's current efforts to mobilize the Department of Justice to criminalize dissent and retaliate against political opponents will only escalate as he continues to lose his grip on power.
We oppose all forms of repression of dissent and commit to acting in solidarity with the people and organizations facing retaliation and criminalization. We will work together to take appropriate measures to assess risks and keep each other safe. But we also recognize that forcing Trump from office is the only way to protect ourselves and the people we love from Trump's wrath, so we will act with the urgency that the situation requires.
While we respect everyone's right to defend themselves and the people they love, we recognize that the police and military forces that may be mobilized to prop up the Trump regime have a far greater capacity for violence than we could ever imagine.
Without making value judgments about the tactical approaches other people and organizations may choose to embrace, we plan to use the tools and tactical approaches that we have the capacity and expertise to implement, including disruptive direct action, mass mobilization, coordinated non-compliance, mutual aid, and other forms of civil resistance.
Planned Actions
November 3rd. After You Vote, Hit the Streets
For months, Donald Trump and his enablers have waged an attack on the democratic process. They're mobilizing an army of thugs to intimidate voters at the polls, they're trying to limit access to early voting, and they even tried to dismantle the US Postal Service. During this triple crisis—the COVID-19 pandemic, the recession, and the crisis of police violence and institutional racism—the stakes are simply too high to sit at home and watch the results play out.
#CountOnUs. We're ready to do whatever it takes to Defend Democracy this fall!
On November 3rd, after you vote, volunteer at the polls or do get out the vote, come to Black Lives Matter Plaza. Thousands of us are planning to come together to defend democracy and ensure that Trump isn't able to steal the 2020 Presidential Election.
We're going to start this next phase of the election cycle in the streets. We'll have GoGo bands, salsa dancers, artists, cultural workers, and much more. We'll also be watching the election results coming in on big screens. Votes will still be coming in, so this will (probably) not be the time we need to create disruption to stop a coup – yet. But we'll be in a good place to respond to whatever might happen. This has been a really long and dark era so we're going to be together to process our feelings of hope, anger, fear and exhaustion as a community.
Regardless of the results, election-night programming will probably wrap up around midnight so we can be energized and ready to hit the streets again on the 4th.
November 4 Shut Down the Attack on Democracy
Trump will only be able to successfully launch a coup if his donors, the media and the Republican Party establishment goes along with his attack on democracy. On November 4, we're going to put Trump's enablers on notice: We hold you accountable for facilitating Trump's historic attacks on democracy.
Meet at 11am* at Union Station OR at Black Lives Matter Plaza (go to which ever one is most convenient for you and your affinity group!). After some short introductions we'll step off to disrupt business as usual for some of the intuitions that are most complicit in Trump's attack on Democracy.
Can you join us? Fill out the form below to let us know you're coming and how you want to plug in!
*The start time is subject to change so please sign up for text messages from ShutDownDC by texting DEMOCRACY to 88202.
November 5 Shut Down The White House
On November 5th we'll turn our focus to the White House to let Trump and his staffers know that we will not tolerate any attempts to subvert democracy and seize power. We're coming by car, by bike, and on foot, and we're coming in three waves—at 7am, 9am, and 11am.
November 6 Shut Down DC
On November 6th, we're going to be ready to continue the uprising to defend democracy by shutting down business as usual in the nation's capital. We'll be continuing our planning and organizing over the next week and we'll be ready to do whatever it takes to stop a coup!
Leaked Zoom Meeting with BLM/Antifa, Sunrise Movement, Fed. Workers Planning Mass US Sedition 110220