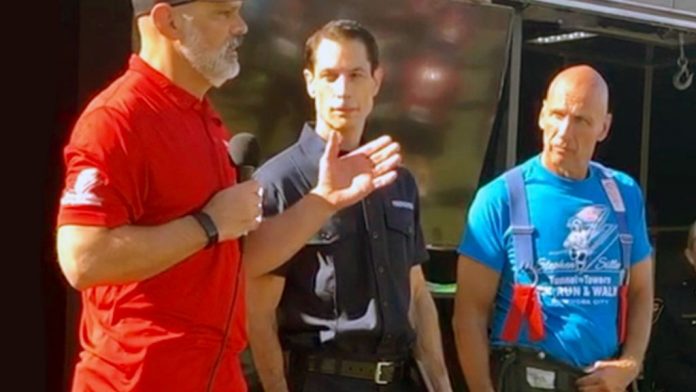 Jamie Cashion, a fire department first responder and American Karate Grandmaster was honored by the Stephen Siller Tunnel to Towers Foundation during the 2019 Tunnel to Towers 5K Run & Walk in Fort Worth, Texas, on October 12, 2019. He knows about service as a businessman, martial arts instructor, and as a firefighter who was severely burned in the line of duty. He still continues to serve as a volunteer fireman with Somervell County Fire Department in Somervell County, Texas and he continues to let his voice be heard for all first responders including our police officers. Listen to what Jamie has to say about supporting our police officers.
"Wow, it is crazy out in our world today. Everybody's got their voices be heard, so today I would like you to listen to my voice and hopefully you'll take a part of my voice and let your voice be heard. We're certainly listening to all the protesters, so let's make our own protest, but maybe in a different way. So I challenge you, unlike the ice bucket challenge, the push-up challenge, I'm going to challenge you to let your voice be heard even though you may get some blowback from people that disagree with you. We need to support our police officers. They're the ones on the front line. They have families. They have children and they're putting their life on the line every day, just as all first responders do. Let's stop the hatred. Don't let one bad police officer ruin it for all the rest of us, because without them our world is going to, it's going to burn, and we're seeing it now. So I challenge you to get a thank card. And you know what, do the best you can to buy a gift certificate to Chili's or wherever you can, and seek out a police officer, give him that card and let him know that you appreciate him. Because without him, we won't have civil. Everybody's wanting civil and peace. Will if you get rid of our police officers, we're not going to have that. It's going to be total chaos, and I think that's where we're going. So please, let your voice be heard. Don't worry about what people think. Show love!!! Thank you."
Join Us To Support ALL FIRST RESPONDERS at The March For America
DO NOT BE SILENT ANY LONGER! Join us as we support for ALL FIRST RESPONDERS!
We are loosing our morals, compassion and most of all love.
WHEN: Saturday, July 25, 2020 at 10:30 AM – 2:30 PM
WHERE: 2201 W 7th St, Fort Worth, TX 76107, United States
HOST: Carlos E Turcios
The March For America on Facebook
INFORMATION:
For the past couple of weeks, we have seen chaos, division, and hate in our streets. Statues being destroyed. Officers and other innocent lives killed. And the destruction of businesses. Well with so much negativity happening, I believe it is time to Unite and show love for our nation. To show that we will not be divided. To support our law enforcement and our communities.
Come join the march and bring your flags, your patriotic attire, and your back the blue flags.
We will meet at the Fort Worth Police/Firefighter Memorial. And will March to the County courthouse. We will have speakers for the March.
Don't forget to bring at least a mask and to social distance. We will make groups if there are more than 100 people. Nevertheless, we will march.