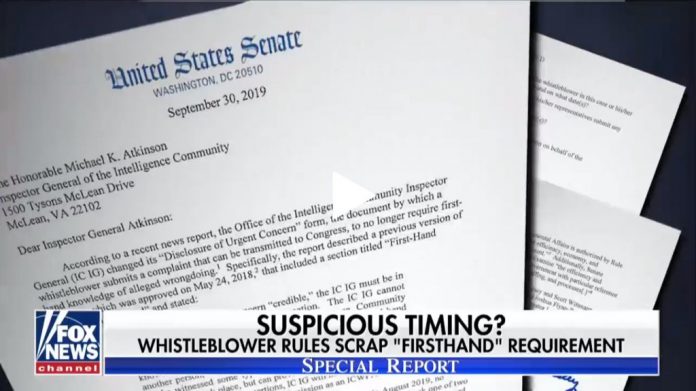 According to a Fox News Report by Gregg Re and Catherine Herridge, the inspector general for the intelligence community said late Monday that the whistleblower whose complaint touched off an impeachment inquiry claimed to have firsthand knowledge of misconduct — a claim that appears to conflict with documents sent to Congress and the director of national intelligence.
On Monday, the lengthy statement was posted in response to questions raised by congressional Republicans and the media. Those questions refereed to the disclosure form filed by the whistleblower who first flagged concerns about President Trump's July phone call in which he asked the leader of Ukraine to "look into" actions by former Vice President Joe Biden and his son, Hunter Biden.
"The other thing, there's a lot of talk about Biden's son, that Biden stopped the prosecution and a lot of people want to find out about that so whatever you can do with the Attorney General would be great. Biden went around bragging that he stopped the prosecution so if you can look into it … It sounds horrible to me."
The inspector general said that on an initial form August 12, 2019, the whistleblower stated "that he or she possessed both first-hand and other information."
According to the watchdog, the whistleblower "checked two relevant boxes" on the form: One stating, "I have personal and/or direct knowledge of events or records involved"; and the other box stating, "Other employees have told me about events or records involved."
However, the declassified whistleblower complaint that was sent to Congress last week stated: "I was not a direct witness to most of the events described. However, I found my colleagues' accounts of these events to be credible because, in almost all cases, multiple officials recounted fact patterns that were consistent with one another."
Republicans, meanwhile, sought answers from the intelligence community on Monday, after a report in The Federalist revealed the intelligence community's whistleblower form was recently revised to drop a requirement that such complaints include firsthand information in order to be sent to Congress.
After media reports highlighted the change in the form, though, the intelligence community watchdog said the whistleblower had indeed filled out the older version of the form, which retained the requirement that whistleblowers have firsthand information.
The inspector general, however, indicated the form was updated in response to media inquiries.
Read Full Article: Intelligence watchdog now says whistleblower claimed 'first-hand' knowledge, in departure from declassified complaint