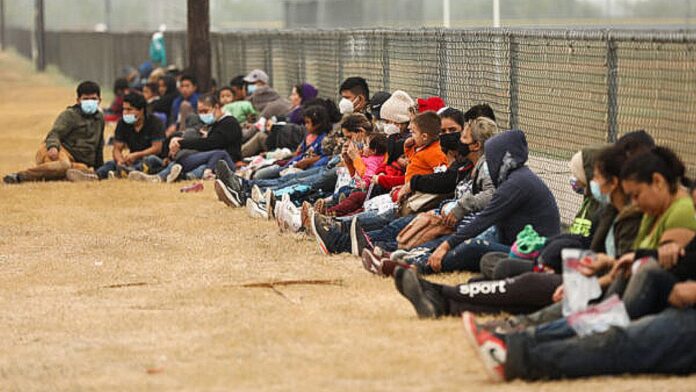 MISSION, Texas—Texas Attorney General Ken Paxton said he is teeing up more lawsuits against the Biden administration for not enforcing immigration law.
With five lawsuits already filed, Paxton said he hopes to force the administration to follow the laws Congress has in place.
"There's a reason that we've sued the Biden administration five times over immigration—tremendous harm is being done to this state, tremendous harm is being done to this nation," Paxton said during a press conference at the U.S.–Mexico border on April 28. "We're going to do our best to force the federal government to follow the very laws that they passed."
Paxton criticized President Joe Biden and Vice President Kamala Harris for not traveling to the border to see first-hand the effects of their policies.
"It seems like they're trying to hide a lot of what's going on. They're very, very secretive. They're not letting us know who's coming in, who's leaving," Paxton said.
"If they're going to have this open border policy, we're going to be affected by it every day."
Harris, who has been charged with solving the border crisis, has said she's focusing on the "root causes" of migration from Central American countries, rather than the immediate issues.
On April 25, when a reporter asked Harris why she hasn't visited the southern border, she replied, "I'm not going to play political games."
The administration has been under fire for its rapid dismantling of many of former President Donald Trump's border security measures.
The number of unaccompanied alien children illegally crossing the border reached a record high in March, with 18,663 children apprehended by Border Patrol—more than double that of February.
A total of more than 168,000 illegal aliens were apprehended by Border Patrol in March, overwhelming facilities and pulling Border Patrol off the border to deal with humanitarian issues.
"This is just a launching point" for the cartels, Paxton said. "They get across the river with their drugs or … whatever they're smuggling, and it's going around the country.
"So Americans may think this is a border problem—and certainly it is most intense here, and it affects us maybe more—but it ultimately does affect the entire country."
Read Full Article on TheEpochTimes.com