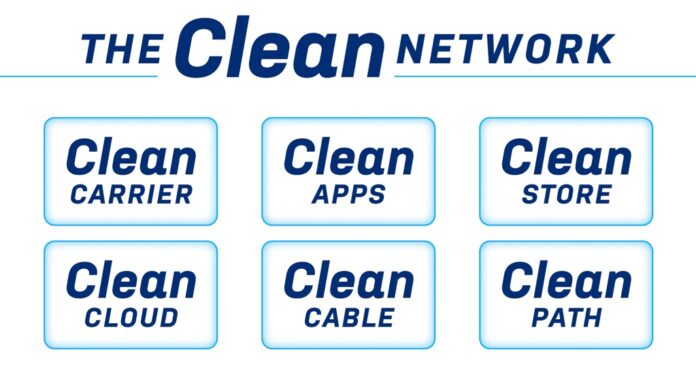 We call on all freedom-loving nations and companies to join the Clean Network.
~ MICHAEL R. POMPEO
SECRETARY OF STATE
The Clean Network program is the Trump Administration's comprehensive approach to safeguarding the nation's assets including citizens' privacy and companies' most sensitive information from aggressive intrusions by malign actors, such as the Chinese Communist Party.
The Clean Network addresses the long-term threat to data privacy, security, human rights and principled collaboration posed to the free world from authoritarian malign actors. The Clean Network is rooted in internationally accepted digital trust standards. It represents the execution of a multi-year, all-of-government, enduring strategy, built on a coalition of trusted partners, and based on rapidly changing technology and economics of global markets.
Digital Trust Standards
In May 2020, at the request of the Department of State, the Center for Strategic and International Studies (CSIS) assembled a group of 25 experts from Asian, European, and U.S. companies and research centers to develop criteria to assess the trustworthiness of telecommunications equipment suppliers. These Criteria for Security and Trust in Telecommunications Networks and Services complement the work of the Prague Proposals and the European Union's 5G Toolbox. They offer governments and network owners or operators an additional tool to use to determine trustworthiness and security.
Prague Proposals
In May 2019, government officials from more than 30 countries across the globe, alongside representatives from the European Union, the North Atlantic Treaty Organization, and industry, participated in discussions regarding the important national security, economic, and commercial considerations that must be part of each country's evaluation of 5G vendors. The resulting Prague Proposals on 5G security published by the Czech conference chair serve as a set of recommendations and principles for nations to consider as they design, construct, and administer their 5G infrastructure.
Clean Network Lines of Effort
On August 5, 2020, Secretary Pompeo announced the expansion of the Clean Network program:
Clean Carrier
To ensure that People's Republic of China (PRC) carriers are not connected with U.S. telecommunications networks. Such companies pose a danger to U.S. national security and should not provide international telecommunications services to and from the United States.
Clean Store
To remove untrusted applications from U.S. mobile app stores. PRC apps threaten our privacy, proliferate viruses, censor content, and spread propaganda and disinformation. Americans' most sensitive personal and business information must be protected on their mobile phones from exploitation and theft for the CCP's benefit.
Clean Apps
To prevent untrusted PRC smartphone manufacturers from pre-installing—or otherwise making available for download—trusted apps on their apps store. Huawei, an arm of the PRC surveillance state, is trading on the innovations and reputations of leading U.S. and foreign companies. These companies should remove their apps from Huawei's app store to ensure they are not partnering with a human rights abuser.
Clean Cloud
To prevent U.S. citizens' most sensitive personal information and our businesses' most valuable intellectual property, including COVID-19 vaccine research, from being stored and processed on cloud-based systems accessible to our foreign adversaries through companies such as Alibaba, Baidu, China Mobile, China Telecom, and Tencent.
Clean Cable
To ensure the undersea cables connecting our country to the global internet are not subverted for intelligence gathering by the PRC at hyper scale. We will also work with foreign partners to ensure that undersea cables around the world aren't similarly subject to compromise.
Clean Path
On April 29, 2020, Secretary Pompeo announced that the U.S. Department of State will begin requiring a Clean Path for all 5G network traffic entering and exiting U.S. diplomatic facilities.
The 5G Clean Path is an end-to-end communication path that does not use any transmission, control, computing, or storage equipment from untrusted IT vendors, such as Huawei and ZTE, which are required to comply with directives of the Chinese Communist Party.
The 5G Clean Path embodies the highest standards of security against untrusted, high-risk vendors' ability to disrupt, manipulate or deny services to private citizens, financial institutions, or critical infrastructure.
Untrusted IT vendors will have no access to U.S. State Department systems. We will follow the letter of the law to ensure that we have a clean path for all 5G network traffic coming into all of our facilities. Period. We will keep doing all we can to keep our critical data and our networks safe from the Chinese Communist Party.
MICHAEL R. POMPEO
SECRETARY OF STATE
Read More on the U.S. Department of State Website