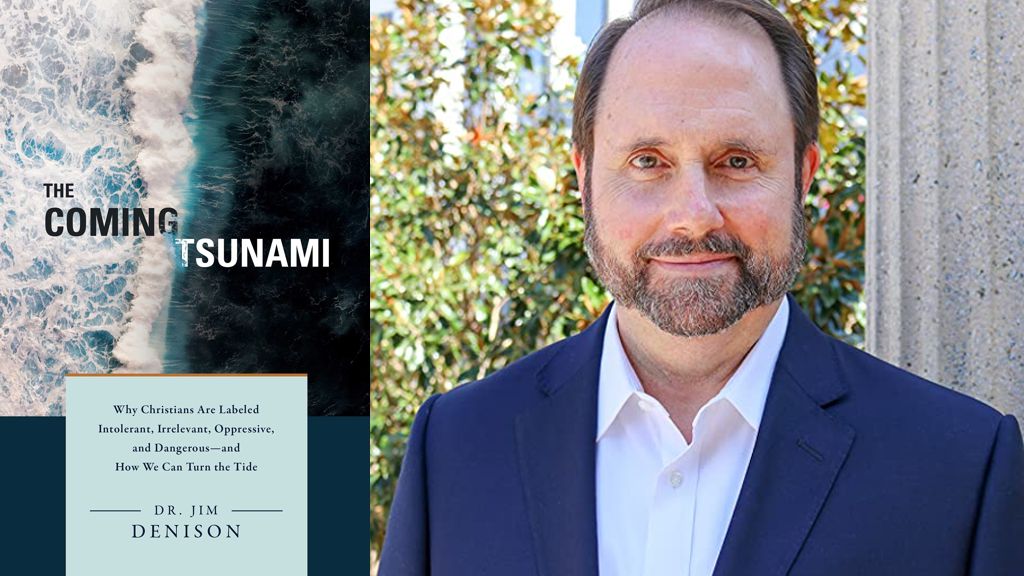 In The Coming Tsunami, pastor and cultural scholar Dr. Jim Denison addresses the gravest threat Christians in America have ever faced—four cultural tidal waves threatening to submerge Christians in America and the biblical morality they proclaim. Through proactive, biblical steps, he helps us redeem these challenges so that we can live the way Jesus calls us to live.
This book is a warning sign.
The coming cultural tsunami is the gravest threat Christians in America have ever faced.
Caused by four cultural "earthquakes," the cultural acceptance of four specific ideologies has seismically shifted our world.
With the rise of a "post-truth" culture, the expansion of the sexual revolution, the attraction of Critical Race Theory, and the advance of secular religion, Christians are increasingly labeled as intolerant, irrelevant, oppressive, and dangerous—the antithesis of the life Jesus calls Christians to live.
These tidal waves are threatening to submerge Christians in America and the biblical morality they proclaim. And the ultimate repercussions of these issues—the coming tsunami—have yet to be fully experienced.
In The Coming Tsunami, pastor and cultural scholar Dr. Jim Denison of the Denison Forum:
assesses how our current culture came to be,
identifies the enormous danger these cultural quakes represent,
explores their consequences for evangelicals and our larger culture,
and offers proactive, biblical steps to redeem these challenges as opportunities for God's word and grace.
The coming cultural tsunami will greatly impact Christians in the coming years. It will undoubtedly influence and affect your children and grandchildren. However, unlike tsunamis in nature, which cannot be stopped once they have been created, it's not too late to stop the moral tsunamis of our day.
But Christians must act now.
The rain is falling.


Editorial Reviews
Review
Dr. Jim Denison invites us to engage our current cultural moment with urgency and consequence. His road map involves intellectual ferocity, cultural relevance, and compassionate generosity. We are five minutes until midnight. Engage. — Dr. Mac Pier, Founder, Movement.org; Co-Catalyst for Cities, Lausanne
This book is a clarion call for Christians who want to make a difference in a culture that may no longer want to hear our voice. The Coming Tsunami covers immense ground, but I especially appreciate Jim's chapter on the necessary medical ethics questions we should be asking of our 'post-truth' culture. If you want to learn how to live in this new world—but not be of this new world—read this book. — Joel Allison, Former CEO of Baylor Scott & White Health
We are presently enduring a cultural tidal wave crashing in on all fronts. For many of us in higher education, we realize the impact cultural shifts will have before reaching the shores of society at large. Dr. Jim Denison has helped us on numerous occasions carefully navigate the stormy cultural waters of our day. This book is an outstanding resource that will strengthen your faith, provide timely wisdom, and reveal incredible biblical insight for the challenges we face as Christians today. — Adam C. Wright, Ph.D., President, Dallas Baptist University
In my work with Christ-following CEOs around the country, I've heard their growing concern about the challenges of being a Christian leader in America. Our moral compass as a nation is changing its true north. What was once perceived as true, even a decade ago, is being challenged and a new radically different cultural journey is being plotted. That's one reason I'm grateful for Jim Denison's new book, one I know will help all Christ-following leaders understand and better prepare for their leadership journey ahead—one where secularism might just become the dominant religion of our day. — Rick Lytle, President and CEO, CEO Forum, Inc.

About the Author
Dr. Jim Denison is a cultural scholar, pastor, and author who helps people respond biblically and redemptively to the vital issues of our day.
He is also the co-founder and Chief Vision Officer of the Denison Forum, a Dallas-based nonprofit that comments on current issues through a biblical lens.
Through his Daily Article email newsletter and podcast, as well as the Denison Forum social media, Dr. Denison reaches 2.5 million people each month with new discerned differently.
He is a widely sought speaker, podcaster, and subject-matter expert on radio about cultural issues from a biblical perspective. Dr. Denison has been a frequent guest on Equipped with Chris Brooks (Moody Radio) and the nationally syndicated Point of View with Kerby Anderson (360+ radio stations).
He is the author of multiple books, including:
Bright Hope for Tomorrow: How Jesus' Parables Illuminate Our Darkest Days
Respectfully, I Disagree: How to Be a Civil Person in an Uncivil Time
and the Biblical Insight to Tough Questions series
Dr. Denison has taught on the philosophy of religion and apologetics at several seminaries.
His residencies and fellowships include:
Resident Scholar for Ethics with Baylor Scott & White Health
Senior Fellow with the 21st Century Wilberforce Initiative
Senior Fellow for Cultural Studies at Dallas Baptist University's Institute for Global Engagement
Scholar Fellow with CEO Forum
He is also a cultural consultant for various organizations that seek a Christian worldview on current events.
Prior to launching Denison Forum in 2009, he pastored churches in Texas and Georgia. He holds a Ph.D. and a Master of Divinity from Southwestern Baptist Theological Seminary. Jim and his wife, Janet, live in Dallas, Texas. They have two sons and four grandchildren.