Last week, seven officers from the US Capitol Police force quietly filed one of the goofiest civil lawsuits in American history. The regime media reported on the Capitol Police's 71-page filing in stoic, dignified tones. As is customary, every "journalist" got the same memo, declined to apply any critical examination, and simply took everything at face value.
The New York Times went farther, affirmatively puffing up the Capitol Police's lawsuit to give the impression Capitol Police officers were simply pursuing "a broad view of the [January 6] riot's origins." According to the Times, this is all just a perfectly normal "effort to hold former President Donald J. Trump accountable for the Capitol attack."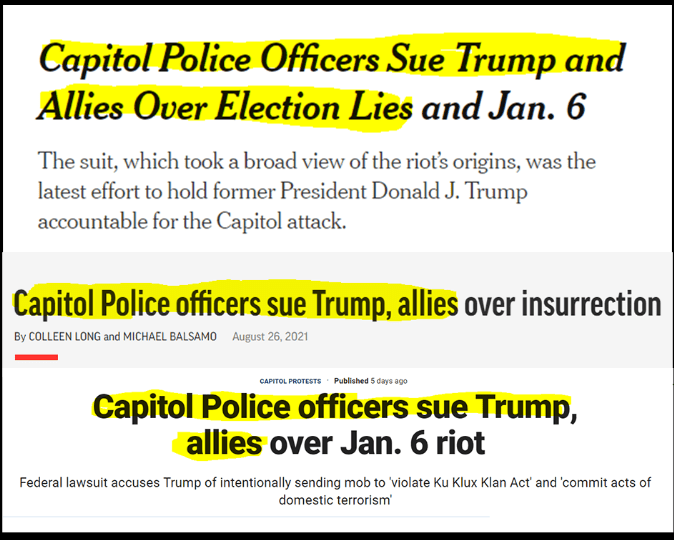 Here was the NYT whitewash:
A group of seven Capitol Police officers filed a lawsuit on Thursday accusing former President Donald J. Trump and nearly 20 members of far-right extremist groups and political organizations of a plot to disrupt the peaceful transition of power during the Capitol riot on Jan. 6.

The suit, which implicated members of the Proud Boys, the Oath Keepers militia and Trump associates like Roger J. Stone Jr., was arguably the most expansive civil effort to date seeking to hold Mr. Trump and his allies legally accountable for the storming of the Capitol.

While three other similar lawsuits were filed in recent months, the suit on Thursday was the first to allege that Mr. Trump worked in concert with both far-right extremists and political organizers promoting his baseless lies that the presidential election was marred by fraud.

"This is probably the most comprehensive account of Jan. 6 in terms of civil cases," said Edward Caspar, a lawyer who is leading the suit for the Lawyers' Committee for Civil Rights Under Law. "It spans from the former president to militants around him to his campaign supporters."

…

While the new lawsuit appears to largely rely on news reports and details gleaned from criminal cases filed by the Justice Department, it takes a broad view of the origins of the attack. It argues that the conspiracy to disrupt the election started as early as May 2020, when Mr. Trump began complaining on social media that mail-in voting could "lead to massive fraud." [NYT]
This case, Smith vs. Trump, bears little resemblance to the Regime media's presentation. Nonetheless, it is still a rather important case to track because of its high stakes impact on the public narrative about January 6's key players and ultimate origins.
By Darren Beattie
Read Full Article on Revolver.News