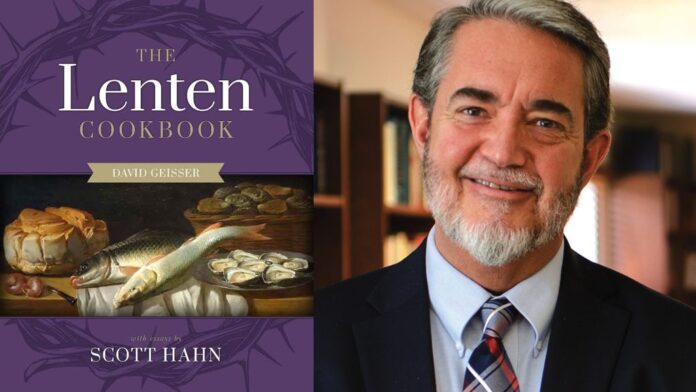 From hearty breads to succulent stews to mouth-watering omelets and desserts, award-winning chef and former Vatican Swiss Guard David Geisser returns with 75 new international recipes that were specially conceived for the penitential season of Lent. From delicious soups and salads to zesty curries and rich smoothies, Chef Geisser offers here a uniquely Catholic way of celebrating the Lenten season in your home each year.
Much more than a cookbook, this first-ever guidebook for mealtimes in Lent features essays from acclaimed biblical scholar Scott Hahn, who reflects on the history of fasting and its integral role in our personal spiritual growth. Hahn guides you on how to practice a holy Lent that will enable you to return your focus to Christ, and how to carry the unique and extraordinary joys of Lent forward into the rest of the year. You'll also learn of forgotten Catholic traditions and timeless customs, such as St. Martin's Lent, Ember Days, and Rogation Days and how you can apply these time-honored periods of grace to your spiritual life today.
Here's a culinary masterpiece that is a must-have for any Catholic and an ideal gift for a loved one's kitchen or coffee table. It also includes:
Scores of meatless dishes that are both simple and savory
Nearly 50 pages of exclusive content from Scott Hahn on the Lenten season
Over a dozen meals ideally suited for those pursuing a rigorous Lent
Several variations on the traditional Lenten hot-cross bun recipe
Inspiring Scripture verses and quotes from the saints to keep you on track this Lent.

About the Author
Dr. Scott Hahn, born in 1957, is the author (or editor) of over forty books, including Rome Sweet Home, Answering the New Atheism, and The Biblical Theology of Pope Benedict XVI. Scott entered the Catholic Church at Easter 1986, and received his Ph.D. in Theology from Marquette University in 1995. In 2012, he was awarded the Fr. Michael Scanlan Chair of Biblical Theology and the New Evangelization at the Franciscan University of Steubenville, where he has taught since 1990. He has been married to Kimberly since 1979; they live in Ohio and have six children and seven grandchildren.
From February 2013, David was in the service of the Pontifical Swiss Guard and wrote his third cookbook "Buon Appetito," which achieved international success. In order to make cooking and nutrition accessible to a younger audience, David Geisser started his own YouTube channel and various campaigns in Eastern Switzerland.