As the storming of the Capitol building on January 6th was still unfolding a despicable gremlin of a woman at The New York Times, Sheera Frenkel, was already crafting a totally baseless lie along with her demonic friends at the ADL and Facebook's COO Sheryl Sandberg about the event being "planned" on both Gab and Parler.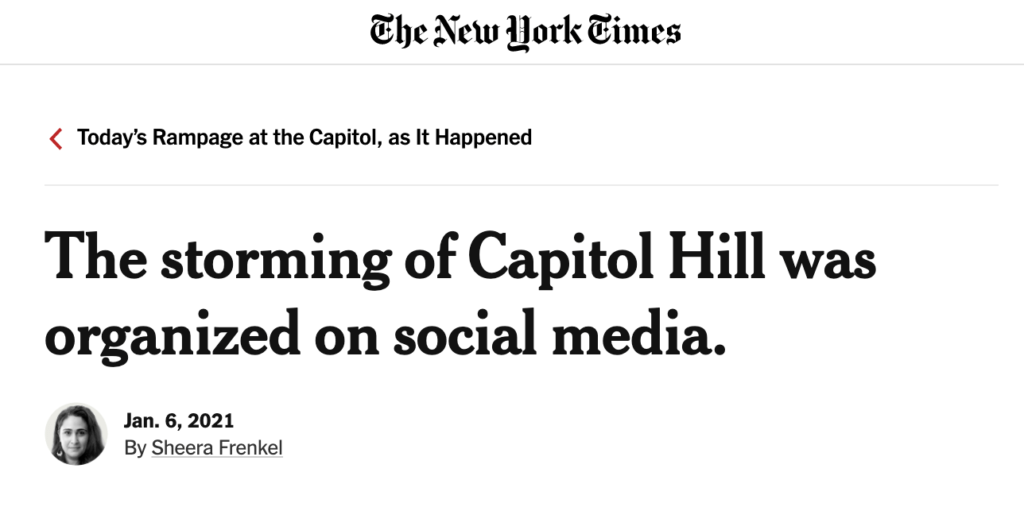 "We need to ascertain right here, right now, whether this specific platform was knowingly facilitating an attack on our nation's capital, literally a terror act against the seat of our government," said the ADL's Greenblatt, who noted that other platforms should also be investigated over the insurrection attempt but he says special attention needs to be trained on Gab.

Source
The ADL also went as far as demanding the DOJ investigate both myself individually and Gab as a whole for "intentionally aided or abetted individuals who carried out the January 6 attack on the nation's Capitol."
Sheryl Sandberg, the COO of the largest social network on the internet that happens to have a specific feature for organizing and planning events, also deflected the blame on Gab and Parler. "Facebook chief operating officer Sheryl Sandberg has sought to deflect blame, noting the role of smaller, right-leaning services such as Parler and Gab."
It has been widely reported, even by mainstream media outlets, that if the event was planned and organized anywhere it was most certainly done on her platform, Facebook.
Today the FBI is exposing the mountain of lies built up by Frenkel, Greenblatt, and Sandberg (I can't help noticing a trend here!)
The FBI has found scant evidence that the Jan. 6 attack on the U.S. Capitol was the result of an organized plot to overturn the presidential election result, according to four current and former law enforcement officials.

"Ninety to ninety-five percent of these are one-off cases," said a former senior law enforcement official with knowledge of the investigation. "Then you have five percent, maybe, of these militia groups that were more closely organized. But there was no grand scheme with Roger Stone and Alex Jones and all of these people to storm the Capitol and take hostages."

Source
The defamatory lies of the New York Times, the ADL, and Facebook's Sheryl Sandberg had dire consequences for Parler, which was immediately removed from App Stores and hosting providers and has never fully recovered despite caving to Apple's demands for censorship.
These defamatory lies also impacted Gab's public image. The lie is still featured prominently on Gab's Wikipedia page and is falsely cited by other reporters in stories about Gab to this day.
We demand a full and immediate retraction of this story by the New York Times and thank God for shining the light of truth on this fake news story.
Andrew Torba
CEO, Gab.com
Jesus is King
NYT Editorial Team,
Gab AI Inc. hereby demands retraction of the false and defamatory reporting published by the New York Times' Sheera Frenkel on January 6th, 2021 claiming without providing any evidence whatsoever that the storming of the Capitol was organized on our platform.
Today it has been reported that the FBI found scant evidence that the event was organized at all, let alone on Gab.
Gab is not a lawless platform and proactively cultivates good working relationships with U.S. and international law enforcement. If we were made aware of an illegal plot taking place on our hardware, we would have removed it. This stands in sharp contrast to platforms like Facebook and Twitter, which for years have harbored international terrorist organizations like the Taliban – something your paper has never reported on or taken to task to the extent you took us to task for content which appeared on our platform in the aftermath of Jan. 6th and other offensive but legal content that has appeared on our platform from time to time.
We quote from Reuters: "The FBI has found scant evidence that the Jan. 6 attack on the U.S. Capitol was the result of an organized plot to overturn the presidential election result, according to four current and former law enforcement officials."
In light of this reporting vindicating Gab's innocence in this matter, we are demanding a full retraction of the defamatory reporting published by The New York Times. Ms. Frenkel's piece, which alleged that "[t]he storming of Capitol Hill was organized on social media" and made extensive reference to posts on Gab that discussed the event (as indeed most of the Internet did on that day) without providing any evidence that the event was in fact organized by those same commenters, was presented as fact, not opinion.
This statement of fact was not only false, it was recklessly and maliciously false. FBI officials' own statements on the matter, reported today, prove it was false.
Our rights in this matter are fully and expressly reserved. Please be guided accordingly.
Gab Legal

By Andrew Torba
Read Full Article on news.gab.com
Gab needs your help now more than ever. Gab is funded by people like you and has been for five years now. As the Gab community continues to grow, their operational costs grow with it. They rely on The People to pay for our data centers, engineers, lawyers, accountants, customer service team, and more. Please consider upgrading to GabPRO for just $15 a month or making a one-time purchase/donation from their shop.