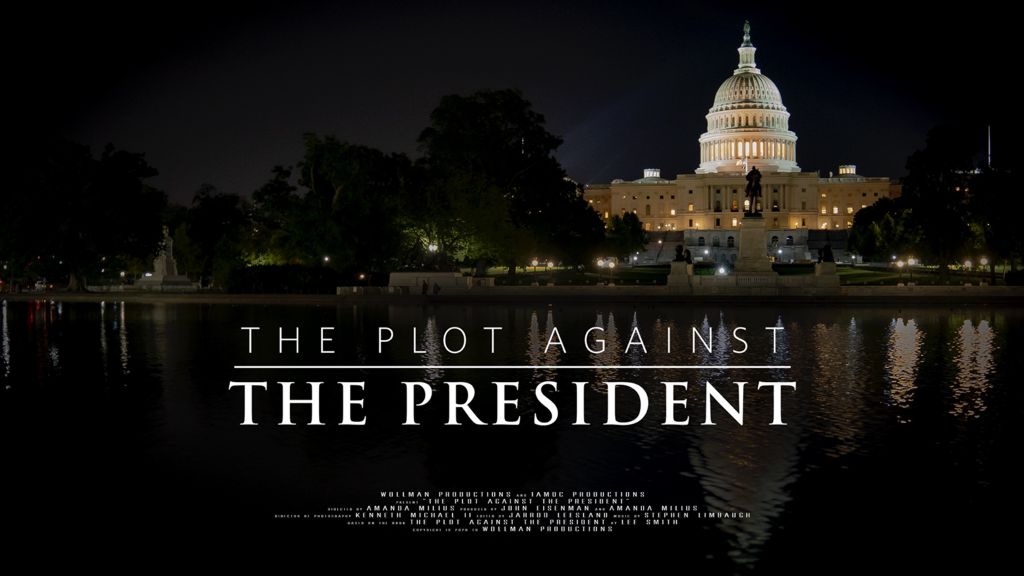 The Plot Against The President Documentary is coming out in October 2020. It is the true story of how Congressman Devin Nunes uncovered the biggest political scandal in U.S. history. The Plot Against The President Documentary is based on the bestselling book by Lee Smith. Directed by Amanda Milius.
The true story of how Congressman Devin Nunes uncovered the operation to bring down the President of the United States. Following the bestselling book, The Plot Against the President, by investigative journalist Lee Smith, this feature length documentary explores new information and additional interviews as the case unfolds. All Americans and a lot of the world think they know about "Russiagate ", but most people would not be able to explain exactly what happened, and why it was the biggest political scandal in U.S. history. This film captures the story directly from the people who lived it, including interviews with sources who won't provide interviews on this topic to any other film or media.
The Plot Against The President Documentary Website
Watch The Plot Against The President Documentary Now
Summary
The plot against the President was a slow-moving coup engineered by a coterie of the American establishment elite, targeting not only the President, but the whole country. The plot began with the FBI opening a counterintelligence investigation on Donald Trump's presidential campaign based on a falsified dossier paid for by an opposition candidate. It was an operation to sabotage a President and many U.S. private citizens. The conspirators included political operatives, the highest law enforcement and intelligence officials in the country, and especially the press.
This is the unheard, true story of how Congressman Devin Nunes and his team of misfits uncovered the operation to bring down the President of the United States. Nunes understood that the target of the operation wasn't just Trump, but rather the institutions that sustain our republic. A country where operatives use the intelligence and security services to protect their privileges by spying o Americans, coordinating with the press, and using extra-constitutional means to undermine an election and try to undo a presidency, is more like the third world than the republic envisioned by the founding fathers. Without Nunes and his team, the plot against the President — and against the country — never would have been revealed.
Featuring
Congressman Devin Nunes
Ambassador Ric Grenell (former Director of National Intelligence, Former US Ambassador to Germany)
Congressman Jim Jordan
Corey Lewandowski (campaign manager for Donald J. Trump for President)
Sidney Powell (former prosecutor, author, counsel for Gen. Michael Flynn)
Donald Trump Jr.
Kash Patel (Deputy Assistant to the President, former Senior Director at National Security Council, former Senior Counsel at the House Select Committee on Intelligence)
Rudy Giuliani (former Mayor of New York City)
Kimberly Guilfoyle (former prosecutor, legal commentator and Fox News host)
Mike Cernovich (Author, filmmaker and media & political commentator)
Roger Stone (Political consultant and commentator)
Congressman Matt Gaetz
Congressman Lee Zeldin
KT McFarland (former Deputy National Security Advisor)
Jack Posobiec (Journalist, Author, & Navy Veteran)
Congressman Mike Turner
Tom Fitton (President of Judicial Watch)
John Solomon (Journalist & Author)
Sebastian Gorka (former Deputy Assistant to the President)
Raheem Kassam (Journalist & Author)
Michael Anton (former Deputy National Security Advisor)
Jack Langer (Communications Director for U.S. Rep. Devin Nunes)
Lee Smith (Investigative journalist, Author The Plot Against the President)
John O'Conner (former Assistant US Attorney General, attorney to Watergate's "Deep Throat", Author)
And several other key participants to be revealed upon release…
The Plot Against The President Documentary Website
Watch The Plot Against The President Documentary Now
About the Director, Amanda Milius
Before starting this film, Amanda Milius worked for the Trump Administration at both the State Department and the White House. She was the Deputy Assistant Secretary for Content in the U.S. Department of State's Bureau of Global Public Affairs up through the first quarter of 2020, and was a Project Manager for the Office of American Innovation at the White House during 2019. Prior to government she worked on the President's Inaugural Committee and campaign during 2016. Ms. Milius joined the Department of State in January 2017 and served in the administration for over three years.
Despite her conservative views and political interests, Milius comes from an artistic and film industry background. Her father is noted right wing director/screenwriter John Milius (Apocalypse Now, Dirty Harry, Wind and the Lion, Red Dawn) and her mother is actress Celia Kaye. Thanks to her father she has had long running relationships with some of the most well-known people in the industry, and had a lot of opportunities to work on films of all sizes before starting her career.
Prior to working in politics, Milius attended the USC School of Cinematic Arts, and completed her thesis film in 2015, which won an extraordinary number of awards and received a great deal of positive coverage. She worked in the film industry for top producers and directors of commercials, television, and film for over ten years.
Thinking she had left the film industry for good when she left Los Angeles for politics in Washington, Milius was not expecting to find herself in the middle of the most important story of the decade and was not expecting to have access to sources and players sought out by the media everywhere. There aren't many capable film makers on the right, with the political ideology, experience or contacts in the government and Washington DC to tackle the complicated subject of "Russiagate' and "Obamagate". Bringing the Deep-State-Meets-Film-Noir of modern DC to the screen is something Amanda Milius may have unknowingly been born to deliver.
The Plot Against The President Documentary Website
Watch The Plot Against The President Documentary Now
Questions and Answers on The Plot Against The President Documentary
Q: Where was the documentary filmed?
A: Filming took place primarily in Washington, DC, in addition to interviews and other materials from all up and down the east and west coasts.
Q: How did this project come about?
A: During my time working in politics in DC, a lot of people I knew were at the center of the most significant story in the US, even if some were more peripheral than others, we knew we were in the middle of history. Lee Smith was one of the only journalists covering the story honestly and was friends with the same group of people. Myself and some of the other producers optioned his 2019 best-selling book of the same title before it came out. It was clear it was going to be a huge hit and it was.
Q: Why do you say the style of the film is unusual for a political documentary?
A: Because I'm not your average political person, I never studied politics, I'm an artist and a filmmaker, I never thought I'd work in government, and my films were already offbeat for mainstream Hollywood back when I thought I would just be a filmmaker. I spent most of my life working in fashion and art photography before that and obsessively consuming various eras of film, so I'm not approaching politics like a traditional conservative. I don't even think politics are close to what they were like four years ago. Every day walking around DC during this time running in and out of imposing dark government buildings in the snow, I felt like I was living in a nightmarish noir as it was. DC is a very creepy town.
Q: What made you want to tackle this subject?
A: I found myself and more importantly, many of my good friends happened to be right in the middle of everything that was going on. That was interesting but it wasn't until Lee Smith's book fell in my lap that we considered making it into a movie. It all came together at that point, it suddenly made sense that I had this filmmaking background that I thought I had left behind but now was a pretty useful skill to have. I think coming from a more stylistic approach than most right leaning directors is what really sets this apart. I also think that the relationships I have with almost everyone we interviewed allowed me and my team access to people who are not going to speak as candidly with any other filmmakers. I've always had a disdain for politics in general, that is until 2016, and certainly a disdain for aspects of the US intelligence community and the abuses of surveillance that have been occurring for decades in this country. It's a subject I've always been very interested in.
Q: Can a "Trump" film be non-political? Can art coexist and collaborate with a political subject that is popular on the right during the Trump administration?
A: I think so. I'm utterly bored of the endless partisanship that permeates everything. I watch movies by left wing people all the time, I watch every news outlet, I consume the ongoing history of this moment as an American not from a political party perspective so I don't know why anyone else can't do that. I also think it's time political docs get a little edgier, and have appeal to both sides. It's of value to all Americans because abuse of power and illegal surveillance is not a partisan issue. It's a spy thriller. Who doesn't want to watch a spy thriller? An actual spy thriller that actually happened. It's the real life "All the President's Men", but bigger. One of my favorite movies, one of the only movies that really captures the desolate evil of DC.
Q: Has additional content been added outside of the original title work?
A: Due to the constant breaking news the film has been adapted to cover the latest developments in the Russian collusion narrative and the subsequent reveal of surveillance abuses. I thought I knew this issue really well and there were parts of interviews that shocked me. There are things in this movie that I don't even feel comfortable knowing, but everyone needs to know. There are also various important firsthand players that have previously not been interviewed or become household names yet, for instance Kash Patel, who is central to this story. But in a lot of ways we also tried to stay as close to the basic premise of the book as possible because average people need a foundation to understand the news as it happens. Understanding what happened in 2016 – 2018 is essential to make sense of what's happening every day currently. Because the media is not going to tell you. Neither side has yet to get the story right.
Q: What was it like shooting in Congress and around DC, was there any special locations that stand out?
A: Shooting in various government buildings and all over DC was unusual because part of the time it was still in partial lockdown so we were able to shoot some wide open empty streets. It was an eerie place to be the last year which works perfectly for the Noir-esq vibe of the film.
Q: Did you find it hard to get government officials to be interviewed on a controversial subject like Russiagate?
A: Well we have a few "John Doe" interviews due to the sensitivities of what they disclose and their positions. These are some of the most interesting interviews. I was lucky to have the relationships I did to get the kind of generous time and access that many extremely high-level participants gave to us. Congressmen typically can't spare more than ten minutes at a time and are used to doing quick TV hits, getting to sit down with these key lawmakers and other people who are currently still in the middle of this drama, for several hours or days, was a real gift.
The Plot Against The President Documentary Website
Watch The Plot Against The President Documentary Now