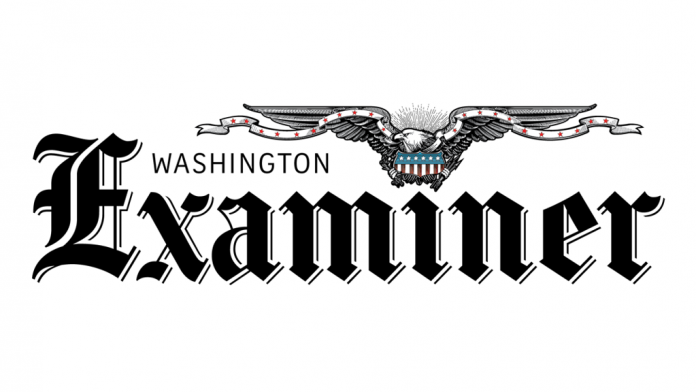 President Trump's former national security adviser Michael Flynn is off the hook.
The DOJ is dropping the criminal charges against Michael Flynn, according to a court filing obtained by the Washington Examiner.
Timothy Shea, the U.S. attorney for the District of Columbia, made the announcement Thursday afternoon in a 20-page court filing.
"The United States of America hereby moves to dismiss with prejudice the criminal information filed against Michael T. Flynn," Shea said. "The Government has determined, pursuant to the Principles of Federal Prosecution and based on an extensive review and careful consideration of the circumstances, that continued prosecution of this case would not serve the interests of justice."
The federal judge overseeing the case will make the final determination on whether to dismiss it.
Trump rejoiced in hearing the news, telling reporters that Flynn is a "warrior" and an "innocent man."
Jeffrey Jensen, the U.S. attorney for the Eastern District of Missouri who was picked to review the Flynn case, said Thursday that he "concluded the proper and just course was to dismiss the case" and advised Attorney General William Barr on his conclusions.
Sidney Powell, a former federal prosecutor, took over Flynn's representation last summer and fought to dismiss the government's case against him. Working with his old team from Covington & Burling LLP, Flynn had pleaded guilty in December 2017 to lying to investigators about his conversations with Russian diplomat Sergey Kislyak about sanctions on Russia and a United Nations resolution on Israel. The FBI intercepted Flynn's discussions with Kislyak, after which fired FBI agent Peter Strzok and another agent, believed to be Joseph Pientka, grilled him on the contents of the conversation on Jan. 24, 2017.
The Justice Department said Thursday that "this crime, however, requires a statement to be not simply false, but 'materially' false with respect to a matter under investigation" and emphasized that "materiality is an essential element of the offense."
"The Government is not persuaded that the January 24, 2017 interview was conducted with a legitimate investigative basis and therefore does not believe Mr. Flynn's statements were material even if untrue," Shea said in his court filing. "Moreover, we not believe that the Government can prove either the relevant false statements or their materiality beyond a reasonable doubt."
Former FBI Director James Comey admitted last year he took advantage of the chaos in the early days of Trump's administration when he sent Strzok and another FBI agent believed to be Joseph Pientka to talk to Flynn in January 2017.
By Caitlin Yilek & Jerry Dunleavy
Read Full Article on WashingtonExaminer.com
460364040-DOJ-Dismisses-Flynn-Case-050720