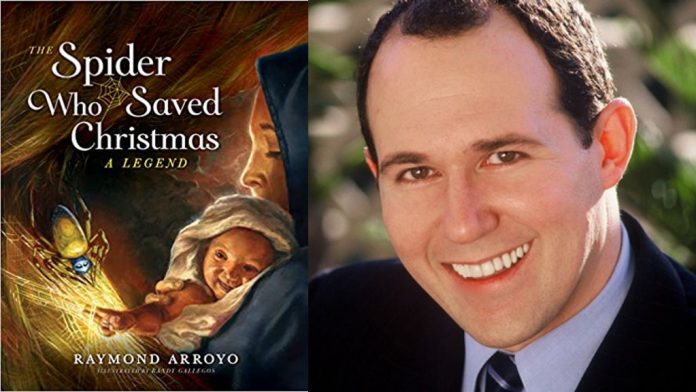 Radiating the wondrous spirit of the season The Spider Who Saved Christmas rekindles an ancient legend – casting new light on the story we thought we knew. Created by New York Times Bestselling Author Raymond Arroyo (with illustrations by Randy Gallegos), The Spider Who Saved Christmas spins the enchanting Faith-filled tale of Nephila, a cave dwelling spider who plays a pivotal role central to the Christmas story. This instant classic reveals the origin of Christmas tinsel and reminds us that hope can always be found- even in dark places where we least expect it.
Review
"In The Spider Who Saved Christmas we instantly meet a new friend who will be with us forever. There are remarkable layers of depth exposed in this beautiful, and all but forgotten legend. Raymond Arroyo deftly fuses the tragic with the miraculous, allowing readers young and old to discover the wonder of the Christmas story as never before."
Gary Sinise
Actor, Director, Founder of the Gary Sinise Foundation
"Raymond Arroyo's touching, The Spider Who Saved Christmas reveals that light can be found in even the darkest of circumstances. This is beautifully crafted, multi-sensory storytelling that speaks to what each of us is experiencing today–and the hope that is ever present if we take the time to seek it.
Roma Downey
Award-Winning Actress, Producer, and Author–Endorsements
From the Back Cover
The Spider That Saved Christmas tells the tale of what happened to the Holy Family on their way to Egypt after receiving the message of the angel. When Joseph, Mary, and Jesus are in danger of being discovered and harmed by Herod's murderous soldiers, a cave-dwelling spider named Nephila risks her and her children's safety to help her hallowed visitors.
Majestically illustrated by artist Randy Gallegos, EWTN host Raymond Arroyo's moving story sheds new light on a family of Golden Silk Orb Weavers, whose silk is considered the most precious of all and is displayed at Christmastime in the sparkling tinsel that glints from evergreen trees the world over. After reading this book, you'll always remember Nephila in the twinkling tinsel. Though small and feared, she met divinity and reflected His light as only she could.
Like each of us, she was there for a reason.
About the Author
Raymond Arroyo is the New York Times Best-selling author of the Will Wilder series (Random House), an international broadcaster and producer. He is a Fox News Contributor and has formerly worked for CNN and the Associated Press. He is the Founding News Director of EWTN News and host of "The World Over Live.