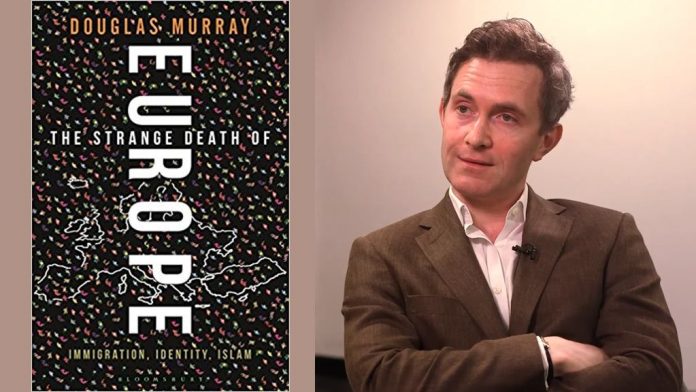 A controversial and devastatingly honest depiction of the demise of Europe.
The Strange Death of Europe is the internationally bestselling account of a continent and culture caught in the act of suicide. Douglas Murray takes a step back and explores the deeper issues behind the continent's possible demise, from an atmosphere of mass terror attacks and a global refugee crisis to the steady erosion of our freedoms. He addresses the disappointing failure of multiculturalism, Angela Merkel's U-turn on migration, and the Western fixation on guilt. Murray travels to Berlin, Paris, Scandinavia, and Greece to uncover the malaise at the very heart of the European culture, and to hear the stories of those who have arrived in Europe from far away.
Declining birth rates, mass immigration, and cultivated self-distrust and self-hatred have come together to make Europeans unable to argue for themselves and incapable of resisting their own comprehensive alteration as a society and an eventual end. This sharp and incisive book ends up with two visions for a new Europe–one hopeful, one pessimistic–which paint a picture of Europe in crisis and offer a choice as to what, if anything, we can do next. But perhaps Spengler was right: "civilizations like humans are born, briefly flourish, decay, and die."
Editorial Reviews
Review
"Lively . . . Murray's book is informed by actual reporting across the Continent, and a quality of writing that manages to be spritely and elegiac at the same time. Murray's is also a truly liberal intellect, in that he is free from the power that taboo exerts over the European problem, but he doesn't betray the slightest hint of atavism or meanspiritedness." – Michael Brendan Dougherty, The National Review
"Timely . . . Murray takes a stance that few dare to take . . . With violence erupting in Europe and America's new anti-immigration policies, this audacious work will find its readers." – Kirkus Reviews
". . . fiery, lucid, and essential polemic." – Sohrab Ahmari, Commentary
"This is a brilliant, important and profoundly depressing book. That it is written with Douglas Murray's usual literary elegance and waspish humor does not make it any less depressing. That Murray will be vilified for it by the liberals who have created the appalling mess he describes does not make it any less brilliant and important ( . . . ) Read it." – Rod Liddle, Sunday Times
"His overall thesis, that a guilt-driven and exhausted Europe is playing fast and loose with its precious modern values by embracing migration on such a scale, is hard to refute." – Juliet Samuel, Telegraph
"This is a vitally important book, the contents of which should be known to everyone who can influence the course of events, at this critical time in the history of Europe." – Sir Roger Scruton
"Douglas Murray glitters in the gloom. His pessimism about multiculturalism is so well constructed and written it is almost uplifting. Liberals will want to rebut him. I should warn them that they will need to argue harder than they have ever argued before." – Nick Cohen
"Douglas Murray's introduction to this already destructive subject of Islamist hegemony is a distinguished attempt to clarify the origins of a storm. I found myself continually wishing that he wasn't making himself quite so clear." – Clive James
"Douglas Murray writes so well that when he is wrong he is dangerous." – Matthew Parris, Spectator
"A compelling, insightful and persuasively argued narrative . . . a deeply humane book that touches on individual tragedy . . . It may even prove to be the start of a conversation, and for such a dangerously politicized and neglected subject, that would be most welcome. The combination of fascinating subject matter and superb writing make The Strange Death of Europe a title that stays in the mind throughout the reading process and beyond." – Entertainment Focus
"A powerful new book." – John O'Sullivan, The National Review
"Powerful and engaging . . . Murray is at his strongest when lampooning the neurotic guilt of Western liberal elites . . . Disagree passionately if you will, but you won't regret reading it." – Literary Review
"[E]rudite, dispiriting, and indispensable . . . . More than any other book with which I am familiar, The Strange Death of Europe provides a rich, comprehensive, and haunting portrait of a continent in extremis and an astute, thoroughly credible diagnosis of the social, psychological, and cultural afflictions that have led it to this hour of crisis." – FrontPage Magazine
"Every so often, something is published which slices through the fog of confusion, obfuscation and the sheer dishonesty of public debate to illuminate one key fact about the world. Such a work is Douglas Murray's tremendous and shattering book, The Strange Death of Europe." – Melanie Phillips, The Times
"The Strange Death of Europe may be one of the most important philosophical books of our time . . . This is nothing less than a dynamite book. It is likely that liberals in Europe and North America will avoid this book, but they shouldn't. Murray's questions are too important to ignore anymore." – Benjamin Welton, New York Journal of Books
"Murray's clear and humane exposition of the seismic changes and the abject failure of political elites to face up to them gives those not willfully blind an opportunity to see." – Eric Metaxas, Breakpoint
"[The Strange Death of Europe] does hit on some unfortunate truths." – The Economist
"[An] excellent and disturbing book." – Michael Barone, Washington Examiner
"The Strange Death of Europe by Douglas Murray is an enthralling account of the rise of Islamism in Europe. It's beautifully written and cogently argued." – Christina Hoff Sommers, Politico
"Murray's analysis deserves careful attention. . . . Readers able to face a stern depiction of culture clash will witness in The Strange Death of Europea panorama of a receding landscape. One wonders what next transforms European mores and beliefs." – Spectrum Culture
"In Douglas Murray's The Strange Death of Europe: Immigration, Identity, Islam, whereby one learns that the death in question is not so strange after all, for it is merely a case of suicide–or, more precisely, attempted suicide, because there is an increasing resistance underway, which is even reversing Islamization in some European countries, at least in some respects . . . Murray is very effective in fully identifying the deformed, guilt-ridden liberalism à la Karsten Nordal Hauken that generates illiberal concessions to intolerance–and to violence." – Tablet
"[The Strange Death of Europe] makes a ferociously well-argued case." – Ralph Berry, Chronicles
"By far the most compelling political book of the year was Douglas Murray's The Strange Death of Europe . . . fearless, truth-telling, and masterfully organised . . . Don't hold an opinion about this book if you have not read it." – Evening Standard, Books of the Year 2017
"This is the most disturbing political book I've read this year. Based on travels through key European centres, Murray weaves a tale of uncontrolled immigration, failed multiculturalism, systemic self-doubt, cultural suicide and disingenuous political leadership. Accurate, insightful and devastating, with applicable lessons for countries on both sides of the Atlantic." – Rabbi Lord Jonathan Sacks
About the Author
Douglas Murray is Associate Editor of the Spectator and writes frequently for a variety of other publications, including the Sunday Times, Standpoint and the Wall Street Journal. He has also given talks at both the British and European Parliaments and the White House.