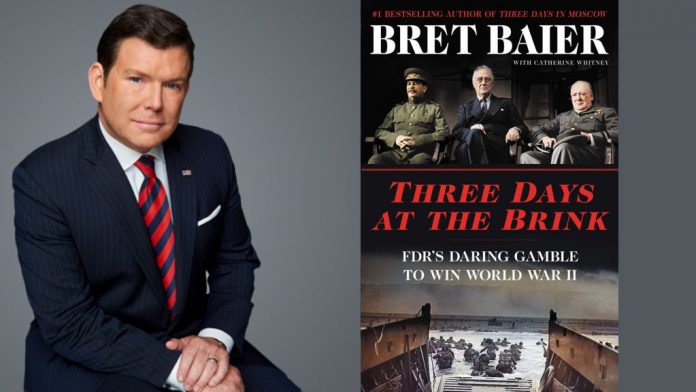 With the fate of World War II in doubt and rumors of a Nazi assassination plot swirling, Franklin Roosevelt risked everything at a clandestine meeting that would change the course of history: the award-winning anchor of Special Report with Bret Baier reveals the gripping lost history of the Tehran Conference, where FDR, Churchill, and Stalin plotted D-Day and the Second World War's endgame.
"I could not put this extraordinary book down. Three Days at the Brink is a masterpiece: elegantly written, brilliantly conceived, and impeccably researched. This book not only sparkles but is destined to be a classic!" ―JAY WINIK
November 1943: The Nazis and their Axis allies controlled nearly the entire European continent. Japan dominated the Pacific. Allied successes at Sicily and Guadalcanal had gained them modest ground but at an extraordinary cost. On the Eastern Front, the Soviet Red Army had been bled white. The path of history walked a knife's edge.
That same month a daring gambit was hatched that would alter everything. The "Big Three"―Franklin D. Roosevelt, Winston Churchill, and Joseph Stalin―secretly met for the first time to chart a strategy for defeating Adolf Hitler. Over three days in Tehran, Iran, this trio―strange bedfellows united by their mutual responsibility as heads of the Allied powers―made essential decisions that would direct the final years of the war and its aftermath. Meanwhile, looming over the covert meeting was the possible threat of a Nazi assassination plot, code-named Operation Long Jump.
Before they left Tehran, the three leaders agreed to open a second front in the West, spearheaded by Operation Overload and the D-Day invasion of France at Normandy the following June. They also discussed what might come after the war, including dividing Germany and establishing the United Nations―plans that laid the groundwork for the postwar world order and the Cold War.
Bestselling author Bret Baier's new epic history, Three Days at the Brink, centers on these crucial days in Tehran, the medieval Persian city on the edge of the desert. Baier makes clear the importance of Roosevelt, who stood apart as the sole leader of a democracy, recognizing him as the lead strategist for the globe's future―the one man who could ultimately allow or deny the others their place in history.
With new details discovered in rarely seen transcripts, oral histories, and declassified State Department and presidential documents from the Franklin D. Roosevelt Library, Baier illuminates the complex character of Roosevelt, revealing a man who grew into his role and accepted the greatest challenge any American president since Lincoln had faced.
Editorial Reviews
Review
"In his monumental new book about one of history's most epic events, Bret Baier has outdone himself yet again. I could not put this extraordinary book down. Three Days at the Brink is a masterpiece: elegantly written, brilliantly conceived, and impeccably researched. This book not only sparkles but is destined to be a classic!" (JAY WINIK, New York Times bestselling author of 1944 and April 1865)

"Riveting. With characteristic intellectual verve and brilliant analysis, Bret Baier allows readers to freshly understand how the Tehran Conference shaped world history. Essential reading by a first-rate storyteller!" (DOUGLAS BRINKLEY, professor of history at Rice Unviersity and author of American Moonshot and Rightful Heritage: Franklin D. Roosevelt and the Land of America)

"In this brisk, readable and compelling book, Bret Baier takes us into a crucial period of World War II and calls our attention to an important hinge of world history." (MICHAEL BESCHLOSS, New York Times bestselling author of Presidents of War)

"In the past three years, Bret Baier, perhaps America's top newscaster, has become one of America's best historians as well. Three Days at the Brink is a fascinating narrative that doubles as a political portrait of FDR and a history of the momentous Tehran conference. Must reading." (DAVID EISENHOWER, Director, the University of Pennsylvania's Institute for Public Service, and author of Eisenhower: At War, a finalist for the Pulitzer Prize in History)

"An exciting, moment by moment account of the Tehran Conference and its aftermath. Well-researched and highly readable." (SELWA "LUCKY" ROOSEVELT, former Chief of Protocol for the Reagan Administration)

"Fascinating and intriguing. Three Days at the Brink is a compelling account of FDR's political life and career. This book, along with Bret Baier's two prior works, distinguishes him as not only a renowned journalist but a superb storyteller and historian. Americans can learn much from Bret Baier and his latest gem." (MARK R. LEVIN, #1 New York Times bestselling author of Unfreedom of the Press)

"A fascinating story, dramatically written. … Baier recreates [the Tehran Conference] vividly." (Booklist)

"Highly readable. … Dramatic. … Compelling." (Publishers Weekly)Read more
About the Author
Bret Baier is the chief political anchor for Fox News Channel and the anchor and executive editor of Special Report with Bret Baier, seen five days a week on Fox News Channel. Before assuming the anchor role, Bret served as Chief White House Correspondent for Fox News Channel between 2006 and 2009. Prior to being named Chief White House Correspondent for Fox News Channel, Bret served as National Security Correspondent based at the Pentagon, reporting on military and national security affairs, as well as on defense, military policy and the intelligence community from 2001 to 2006. He reported from Iraq twelve times and Afghanistan thirteen times. In his career Bret has traveled the world with various administration dignitaries and military officials, reporting from seventy-four countries. He is the author of the New York Times bestsellers Three Days in Moscow: Ronald Reagan and the Fall of the Soviet Empire, Three Days in January: Dwight Eisenhower's Final Mission, and Special Heart: A Journey of Faith, Hope, Courage and Love. He lives with his family in Washington, DC.
ThreeDaysinMoscow.com
BretBaier.com
Catherine Whitney has written or collaborated on more than twenty-five books, including Framing a Life: A Family Memoir with Geraldine Ferraro and Guilty: The Collapse of Criminal Justice with the late Judge Harold J. Rothwax.