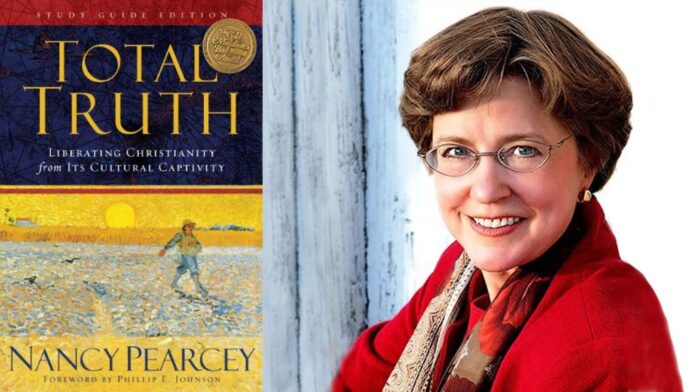 Does God belong in the public arena of politics, business, law, and education? Or is religion a private matter only-personally comforting but publicly irrelevant?
In today's cultural etiquette, it is not considered polite to mix public and private, or sacred and secular. This division is the single most potent force keeping Christianity contained in the private sphere-stripping it of its power to challenge and redeem the whole of culture.
In Total Truth, Nancy Pearcey offers a razor-sharp analysis of the public/private split, explaining how it hamstrings our efforts at both personal and cultural renewal. Ultimately it reflects a division in the concept of truth itself, which functions as a gatekeeper, ruling Christian principles out of bounds in the public arena.
How can we unify our fragmented lives and recover spiritual power? With examples from the lives of real people, past and present, Pearcey teaches readers how to liberate Christianity from its cultural captivity. She walks readers through practical, hands-on steps for crafting a full-orbed Christian worldview.
Finally, she makes a passionate case that Christianity is not just religious truth but truth about total reality. It is total truth.
This new study guide edition is filled with fresh stories, examples, and illustrations. Based on questions and comments raised by readers of the book, it is ideal for individual or group study.
Review
On one level, this book is a lucid, easy-to-understand manual for worldview thinking. But it also breaks new ground in worldview analysis." ―World Magazine
"Pearcey is an outstanding writer with the ability not only to express deep thoughts in a very readable way, but one who also understands a biblically reformed world and life view. If you buy only one book this year, this would be at the top of the list." ―Equip For Ministry
"Pearcey helps readers see how many modern Christians unwittingly accept a sacred/secular split, which allows them to relegate faith to the private sphere of life. She then clearly puts forth a Scriptural picture of integrating all of life under the liberating Lordship of Christ and shows what that truth means for the areas of public policy, family life, science, business, law, education, and more." ―Covenant Magazine
Total Truth questions the modern American cultural attitude of keeping religion a private matter, claiming that Christianity's truth is best served by being brought into the public sphere to maximize its influence." ―Midwest Book Review
"Thoroughly researched, well-written and well-argued, Total Truth will prove to be a useful and easily accessible guidebook for many who seek to develop a comprehensive biblical worldview that affects not only beliefs but actions." ―CaliforniaRepublic.org
"This book continues the Schaeffer-inspired project that Nancy Pearcey and Chuck Colson began in How Now Shall We Live?—awakening evangelical Christians to the need for a Christian 'worldview,' which Pearcey defines as 'a biblically informed perspective on all reality.' This is the rare long book that leaves one wanting to read more." —Publishers Weekly
About the Author
Nancy Pearcey is author of Total Truth: Liberating Christianity from Its Cultural Captivity, which won a 2005 ECPA Gold Medallion Award, and How Now Shall We Live? (coauthored by Harold Fickett and Chuck Colson), which won a 2000 ECPA Gold Medallion Award. 
Her most recent book is Finding Truth: 5 Principles for Unmasking Atheism, Secularism, and Other God Substitutes.

Formerly an agnostic, Pearcey studied under Francis Schaeffer at L'Abri in Switzerland. She earned an MA from Covenant Theological Seminary and pursued further graduate work in History of Philosophy at the Institute for Christian Studies in Toronto. 

Heralded as "America's pre-eminent evangelical Protestant female intellectual" (The Economist), Pearcey is professor and scholar in residence at Houston Baptist University. She is a fellow of the Discovery Institute and editor-at-large of The Pearcey Report. As founding editor of the radio program Break Point, she also coauthored a monthly column with Chuck Colson in Christianity Today. 
Pearcey has contributed to several books and published more than a hundred articles. She has spoken in the US Capitol and the White House; at universities such as Princeton, Stanford, and Dartmouth; to actors in Hollywood and artists in New York City; on NPR and C-SPAN. Her earlier books include The Soul of Science and Saving Leonardo.