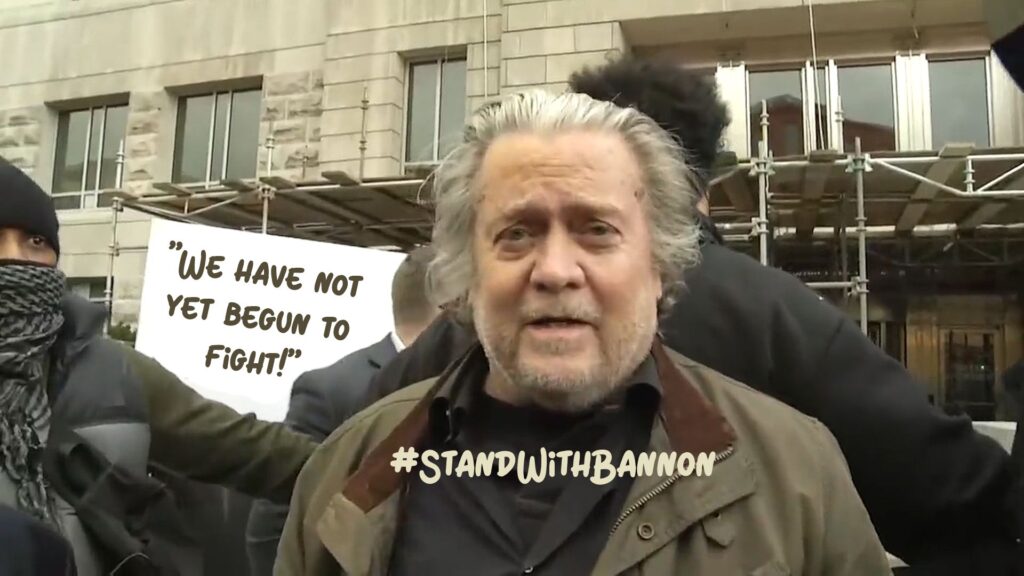 Former President Donald Trump adviser Steven Bannon surrendered to the FBI on charges of contempt of Congress on Monday morning, according to video footage of the incident.
Bannon was mobbed by members of the media as he surrendered to federal officials at an FBI field office in Washington, D.C. He is expected to appear in court later in the afternoon.
"We're taking down the Biden regime," he told reporters on the scene on Monday. "I want you guys to stay focused, stay on message. Remember signal, not noise," Bannon also said, adding that "I don't want anybody to take your eye off the ball of what we do every day."
It came three days after he was indicted on two charges of contempt of Congress after he refused to appear in front of a congressional deposition and wouldn't provide documents in response to the panel's subpoena. Both counts—which are misdemeanors—carry a minimum of 30 days and a maximum of 1 year in jail, as well as fines between $100 and $1,000, according to a Department of Justice news release last week.
In October, when the Jan. 6 Capitol breach panel issued a subpoena to Bannon, his attorney said he wouldn't be cooperating with the probe because he hadn't been directed to by Trump. The lawyer, Robert Costello, wrote that "the executive privileges belong to President Trump," while Bannon's invocation of the legal doctrine should be "honored."
According to the indictment, however, Bannon is a private citizen who "refused to appear to give testimony as required by a subpoena."
Officials in Democratic and Republican presidential administrations have been held in contempt of Congress in the past, although criminal indictments are considered rare. The last time it occurred was in 1983 when former Environmental Protection Agency official Rita M. Lavelle was acquitted of contempt of Congress when she didn't testify about a hazardous waste site.
Read Full Article on TheEpochTimes.com